CUISINE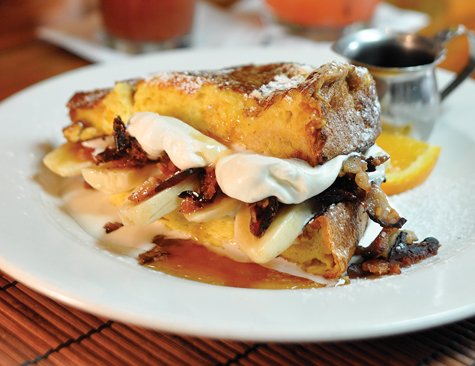 Sit, Chat, Chew

Jesse Martin's Park Corner Bistro - From Bistro to Food Bar
By Lisa Belcastro
A friend called and said, "Let's go to the bar," my answer was bound to be, "No, thanks." Jesse Martin, owner and chef at the Park Corner, has given me a reason to change my response. Do I want to go to Jesse's Food Bar? Yes please!

The Park Corner was founded in 2001 by Jesse Martin and a collection of business partners. Nestled across from the Oak Bluffs Post Office on Kennebec Avenue, the 28-seat restaurant began as a French bistro. "We started off high end. White tablecloths, cooks from California, and then the recession kicked in. We've been evolving since," said Jesse.

Jesse grew up in the restaurant business in California, cooking and learning in Santa Cruz and San Francisco for many years. His dad still owns and runs a restaurant in San Francisco, and Jesse juggled a few years of bi-coastal working and living before settling on MV. He came to the Vineyard in 1995, twenty years old, and ready for summer fun and beautiful beaches. He worked at David's Island House and Piano Bar that first summer. He then came back in '98 to be the pastry chef at the Red Cat and the sous chef in '99.

This spring Jesse unveiled a new menu and new concept to match the menu. Jesse and his staff at Park Corner will be serving up twenty-plus appetizer-share plates as well as Belly Fillers, their customer-favorite entrees.

You've got to sample the new menu to believe it, and sampling is what you're meant to do. An order of the Beet & Citrus Salad, the Pollo al Pastor Tacos, the Calamari Romesco, and the Bao Buns will leave you and your bestie more than satisfied.

The motto at Park Corner is simple: Sit. Chat. Chew.

Jesse's tagline defines the festive air of the Park Corner Food Bar, and the purpose for being there – relaxation, conversation, and great food.

"We're going to keep it fresh. Not much fried on the menu," said Jesse. "I'm getting involved with more local farmers and fisherman. Currently working with Thimble Farm as well as local fish and local brews."

Local beers and select regional wines are significant players at the Park Corner. After nine o'clock at night, Park Corner becomes a chic adult venue with music, an eclectic selection of black and white movies playing on the televisions, sans sound, and a creative cocktail selection. "We pride ourselves on our drinks," said Jesse, who almost tempted me to have a G3 at lunch. (Charbay Ruby Grapefruit vodka, ruby red grapefruit juice, and fresh ruby grapefruit.)

This summer the Park Corner will offer a new light brunch and cocktail menu five days a week, their traditional Sunday brunch from 11:00-2:00, and dinner will be served seven days a week from 5:00 PM.

Whether you're a fan of Park Corner or scoping it out, Jesse has shared some of his favorite recipes with Vineyard Style, and given us the tips to make them come out perfectly at home.

The Pork & Grits, my favorite to date, "is easy to make. One pan, a good cut of meat, and you don't need to do much," said Jesse. "Leave a nice strip of fat on the chop to get flavor. I like a big, thick chop. They take a little longer to cook, but it's worth it."

With summer fast approaching, and not a moment too soon, many of you will either be out clamming or buying local little necks. How about some of Jesse's Ginger Clams?

"I came up with this recipe a couple of years ago. I just love it. It's sweet and spicy, and with a loaf of bread you have a great appetizer."

If you're not a clam fan, Jesse has shared with us the recipe for his popular Calamari Romesco. "I sauté the calamari instead of frying. Heat the olive oil before adding the squid, and then sauté until it curls. Do not over cook it," said Jesse, who loves calamari so much that he attended the Santa Cruz Calamari Festival for years. "The sauce is a no-brainer. You can make it as is, or add more or less of something to make it our own. Double this sauce to have extra. It's great with fish or chicken, and if you eliminate the bread crumbs it's gluten-free."

On the other side of gluten-free is Jesse's decadent brunch treat: The Mercedes: Portuguese Sweet Bread and Banana French Toast . . . with bacon. "The secret is the bread. Reliable and Cronig's sell the Five Star sweet bread. Slice it to two-inch thickness, and then get a nice saturation into the batter, but not too long or the bread will fall apart. Cook the bread in batches. Take your time. This dish is low and slow – low heat and slow cooking."

Jesse had two comments on the Spiked Root Beer Float for dessert: "This drink is NOT for children!" And, "the Root beer is 10% alcohol - YUM YUM!" That should sum it up!

See you at the Bar!

The "Mercedes"
Portuguese Sweet Bread &
Banana French Toast

What you need:
Five Star Portugese sweet bread, square loaf sliced into 2 inch slices
8 egg yolks
2 whole eggs
3 cups heavy cream
1/4 cup sugar
1 tsp. vanillla extract
1 cup whiskey (optional)
1 tsp. nutmeg
1/2 tsp. salt & pepper
1/4 cups diced bacon
4 fresh bananas peeled & sliced in length long slices
quality maple syrup
whipped cream
powdered sugar

Method:
1. Whip the cream, sugar and vanilla until it forms stiff peaks and set aside.
2. Chop bacon and cook until crispy, set aside.
3. Pre heat oven 350 degrees.
4. Whisk egg yolks, whole eggs, heavy cream, whisky, nutmeg, salt and pepper in a flat baking dish.
5. Soaked slice bread, flipping to fully saturate
6. Heat non stick pan or griddle to medium high heat.
7. Caramelize soaked bread and flip when golden brown 1-2 min., toast other side and place in baking sheet, fill baking sheet with sliced toasted toast.
8. Bake five minutes for toast to soufflé, center should be moist and dry not runny.
9. For plating slice toast in half, place one half on plate layer sliced bananas, some bacon and spoonful of whipped cream, sandwich second layer of toast on top, cover with powdered sugar and serve with maple syrup.