MADE ON ISLAND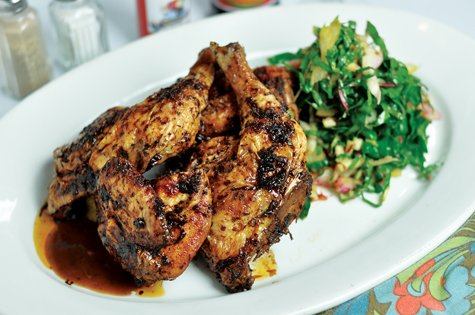 Don't Worry Be Happy

Chef Deon Learned From the Masters
As a young lad in Jamaica, where he grew-up, Deon Thomas would watch his mother and grandmother make Jerk Sauce and spicy Hot Sauce. They made so much they would give it away to their neighbors, soon there was a line around the block on the days the spicy sauces were being made.

Deon now makes his version of those distinctive sauces available to the "Islanders" of Martha's Vineyard.

Islanders should know Deon Thomas, as he's been at the helm of several fine dining establishments on Martha's Vineyard including The Cornerway in Chilmark, Deon's in West Tisbury and Deon's on Circuit Ave in OB.

Classiclly trained at The Culinary Institute of America in Troy NY, Deon began his career in Montauk, NY. Returning to his roots, he opened a restaurant on the tony island of Anguilla, just a short boat ride from St. Martin. For 12 years he delighted world travelers, celebrities and locals alike with his Caribbean favorites. Deon was lured to the Vineyard by Eleanor Pearlson who was a huge fan of his cooking, and helped him get established here.
The secret ingredient in Chef Deon's Jerk Sauce and Hot Sauce is the scotch bonnet pepper, grown throughout the Caribbean and is incorporated into much of the traditional Island cuisine.

"Scotch bonnet is full of flavor, it tant-alizes the senses," says Deon.

After Thimble Farm expe-rimented growing scotch bonnet peppers as a cash crop they decided not to persue it, although Deon bought up their entire yield.

The recipe is a secret but Deon says "the sauces are seasoned with the peppers, all spice, herbs and other exotic ingredients. I even make my own caramel as a base." The Jerk flavor is used in sauces, marinades for grilling, and believe it or not, on toast.

Deon now runs the restaurant at the VFW Hall, six days, seven nights where he serves up the most exotic – and popular – dishes such as Curry Goat, Ox Tail and, of course, Jerk Chicken. For the traditionalists there's also Prime Rib, Wild Salmon, Duck, Lamb and several styles of prepared Conch. He's currently working on a Conch cookbook, and has a big following for his catered fare on the Vineyard.

The VFW is open to the public "for three or four visits as my guest" says Deon. Where upon one can become a member, for a nominal fee, (under $30), benefitting this great organization.