DRAWING BOARD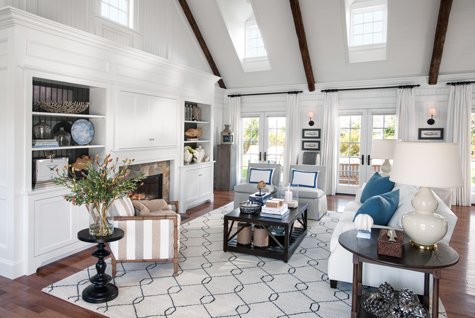 The Ultimate Getaway Give-away

The HGTV Dream Home On Martha's Vineyard
America's leading home and lifestyle brand chose Marhta's Vineyard to build and give-away a Dream Home, situated on a quiet lane adjacent to The Field Club in Katama. The home part of a grand prize package valued at more than $2 million, including the home with all the furnishing, a 2015 GMC Acadia Denali, and $250,000 provided by national mortgage lender Quicken Loans. The official entry period for the HGTV Dream Home ran from December 29,2014 through February 17 this year. HGTV is a top-rated cable network that is distributed to more than 96 million U.S. households. The HGTV website, HGTV.com, is the nation's leading online home-and-garden destination that attracts an average of four million unique visitors per month.

Thisyear's entrants were required to register on-line only, once per day of the entry period. One lucky winner, Kathy O'Dell of Huntsville, Alabama was drawn and is now the proud owner. Kathy's name was chosen from more than 94 million entries for the HGTV Dream Home. Our lucky winner says she "was so amazed" when John Gidding and the HGTV production crew ambushed her recently at a local restaurant. Kathy is a retired computer programmer, mother of five and grandmother of six. An avid fan of HGTV, she and her husband Steve entered twice daily almost every day of the week. Kathy and her family will also enjoy a membership in the Field Club, which features eight tennis courts, a lawn game area, outdoor heated pools, deluxe spa, fitness center and a casual restaurant with patio dining. Kathy is still amazed by her stroke of good fortune, and is looking forward to visiting the Vineyard and enjoying her winnings. The HGTV Dream Home 2015 winner weekend is scheduled a week before Kathy and Steve's anniversary. "It's going to be our anniversary trip!"

The HGTV Dream Home was designed by architect Patrick Ahearn in his signature Cape house style with cottage vernacular, taking ideas from historic structures of the area such as its white clapboard front and dark green shutters. The home also features two stove chimneys that replicate the Katama Plains "shacks" of the area and has six dormers, creating natural light throughout. The approximately 3,200-square-foot, three-bedroom, three-and-a-half bath home is intimate in scale, but open and airy. HGTV Professional Home Planner Jack Thomasson says. "We've worked with our partners on this home to recognize the architecture and history of Martha's Vineyard, while building a spectacular HGTV Dream Home that is all about modern living."

The heart of the home is the central double-height great room and large gourmet kitchen with vintage solid beam trusses and large windows for generous views. In addition, three sets of French doors open to a blue stone terrace, with a spacious outdoor grilling area. A master suite is located at one end of the home, complete with a master closet, separate dressing room and two private patios. At the opposite end are two additional bedrooms, each with private outdoor courtyards, and two more baths.

Interior Designer Linda Woodrum has been the home designer for the HGTV Dream Home for 19 years including this years HGTV Dream Home. Linda has designed interiors for many significant homes all over the United States. Her work has been featured in many national publications including Southern Accents, In Style, Domino, Cottage Living, Southern Living, and in Coastal Living where she was the chief design consultant for the Coastal Living Idea House for seven years.

The HGTV Dream Home 2015 features products provided by national advertising partners including GMC, Lumber Liquidators, Sherwin-Williams, Quicken Loans, Cabinets to Go, Delta Faucet, Ethan Allen and Bose.