TRENDS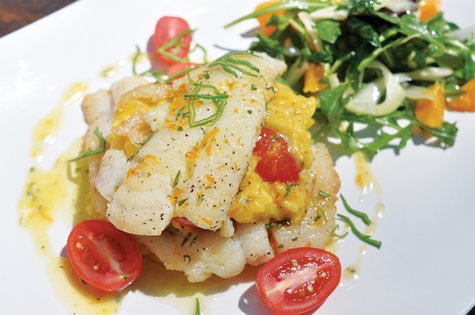 Au Bon Climat

Chardonnay from Santa Barbara County, California
By Francois Gautier
A lot of good chardonnays are very expensive, but this particular one is a great value! Fresh and crisp, it develops into something more complex in the glass. It carries typical butter and white flower aromas that surround a ripe, white fruit core and finishes with fresh, clean acidity. It is actually one of the Californian chardonnays whose taste strongly resembles that of a Burgundy chardonnay, specifically one from the Côte de Nuits terroir. I chose this wine for its elegance and character to match the flavours of the dish (below) prepared by Executive Chef Michael Lindenlauf at TEA LANE CATERERS.
Suggested bottles worth having on hand
Josh Cellars
- Caberrnet Sauvignon, California, Dark fruit, plum, blackberry aromas with light smoky notes in a
supple style.
Drink it with
: red meat, ie: Bœuf Bourguignon, roasted beef or grilled lamb rib chops with a rosemary crust.
Joel GOTT
- Sauvignon Blanc, California, Refreshing Citrus aroma, tropical notes, perfectly balanced.
Drink it with
: as an aperitif or with fish, shellfish, goat cheese.
Marius
- Rosé Pays d'Oc, Southern France, Expressive round and fruity Rosé, enhanced by notes of white fleshed fruits (peach).
Drink it with
: summer salads, grilled fish and barbeque.
François Gautier
started working in the French wine industry in 1994 as a sales person in a British wine warehouse. Later he managed a wine shop
in Normandy, and soon accepted a position as a wine representative for a cognac and wine estate.
He opened his wine shop "LE GOUT DES VIGNES" in Paris in 2003. Francois owned and ran the shop for 10 years, building a loyal clientele, discovering their specific tastes and introducing them to his own, further developing their wine knowledge base while sharing the love of the grape.
He now lives on the Vineyard, with his wife Jennifer and daughter Joséphine where he consults clients in demystifying the wine world and helping them cultivate the tasting skills required to appreciate fine wine. Francois says "Wine is first and foremost agriculture and should be accessible to anyone
who wants to explore it." A votre sante!
François is now offering group Wine Tours to France. Check out his website: vineyardtovineyards.com. François can be reached at:
fgautier1973@gmail.com
.