COMMUNITY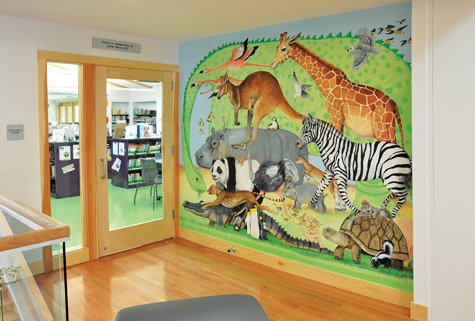 The West Tisbury Library

Not What Libraries Used to Be, Now a Vibrant Community Center
by Amelia Smith
The word "library" conjures images of row upon row of books in dimly lit stacks, a hushed environment for quiet reading and study. You can still find that in our local libraries, but these days you probably won't find the stereotypical shushing librarians of yesteryear. "Shhh is a four letter word in our library," says Beth Kramer, director of the West Tisbury Library, which has become a vibrant community center, a place for art exhibits, and musical performances, as well as books, movies, and internet access.

Around the Island, libraries are expanding their offerings and their buildings, all with an eye to providing resources uniquely tailored to and shaped by their home communities. "Libraries need to be reflective and forward-looking, and to give people what they want," Beth says. "It's a different thing for everybody." The library provides resources for all ages, from babies exploring their first board books to seniors learning new technologies.

"It's not the small browsing library that we once had," Beth says., "As a member of CLAMS (Cape and Islands Library Automate Materials Sharing) the staff is able to help patrons quickly and easily get whatever they might want in almost any format they want. Even when the library is closed, its parking lot is full of people in cars with their laptops, taking advantage of the library's free wifi, available 24/7. The library plays a role in emergency management, too. "People can come here when they don't have power or internet and need to find out what's going on," Beth says. In the winter, it gives people a place to go, to connect with others after snow-bound isolation, and in summer, vacationers use the library, too.

Although the internet provides access to a never-ending glut of information, one of the key roles of library staff is to help people find what they need in that sea of data, whether it's clear and accurate information, old fashioned tax forms, or even local support groups that might not turn up in an internet search. "The more we do our own research in an isolated way, the more we crave community," Beth says.

Library patrons and staff shape the collections in each library. West Tisbury's library has an extensive collection of books that relate to its agricultural heritage, covering landscape, gardening, and cooking. It's not just books, either. There's a seed library, and the landscaping outside showcases native plants while protecting the town's natural habitats by minimizing run-off to the nearby pond.

Libraries gather resources from the local community, too. The Vineyard Collection at West Tisbury is now housed in a climate-controlled glass cabinet, paid for by funds from the Community Preservation Act. Digitizing and sharing these resources is an ongoing project. The Martha's Vineyard Library Association in collaboration with the MV Museum is bringing the Mass Memories Road Show to the Island this October. The Road Show is an event-based public history project that digitizes personal photos and memories shared by the people of Massachusetts. Those resources will then be available on the Web, from anywhere in the world. "It's helping our community preserve their history," Beth says.

One group that helps shape the library is the Teen/Tween Library Club. "We really want them to feel that this is a place for them to come, with their own comfortable space to sit and read," says Amy Hoff, Young Adult Librarian. "Teens like the quiet space to complete their homework, a lot of which is online now." They have their own room in one corner of the library with comfortable bean bags, a study room, and Chromebooks available to use. They have their own yoga classes and other workshops.

Volunteers contribute a great deal, whether they're high school students or adults. The Friends of the West Tisbury Library run an annual book sale which funds everything from furniture to staff training, in addition to the library's website. The West Tisbury Library Foundation (also volunteers) raised over $2 million to complete the capital project and is now building an endowment to help the library in the future. There's also a blog run by two anonymous community members. The library collaborates with non-profits such as the Polly Hill Arboretum, ACE MV and Island Grown Initiative to provide various programs. "Adult education is community driven and staff generated," Beth says. "We all have different interests." She says that the library has classes in cooking and knitting, even a workshop on bicycle maintenance is planned.

Of course the library still encourages reading. The summer reading program's rewards vary by age group, beginning with T-shirts for toddlers and younger children. Teens get passes to the Agricultural Fair, and adults are rewarded with a beautiful book bag.

All of these programs, collections, and ways for the community to get involved have made the West Tisbury Library the busiest library of its size in the country. Other Island libraries are thriving centers in their own communities, too, growing all the time to provide resources, teach, and to help people connect and learn together.