ARTIST PROFILE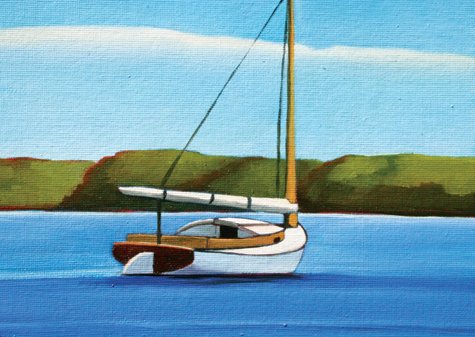 KENNETH

A 21st Century Revival
profile by Amelia Smith
Kenneth Vincent paints the vistas, the back roads and panoramas of his native West Tisbury and the surrounding Island. He's a descendant of a long line of Island farmers and fishermen who weathered difficult times through the 19th and 20th centuries. The Vincent family endured. One story Kenneth tells is how his great-grandfather died of the Spanish Influenza, which led to his grandfather, Chester Vincent, leaving school in the sixth grade to support his mother and himself.
"It was a kind of a weird snowball effect," Kenneth says, "later on Chester was in the Army Corps of Engineers, but he wasn't able to join the regular Army because he was the only son of a widow, which disqualified him from the benefits of the GI Bill." Chester had six children, two of whom died of pneumonia. One of the six, Kenneth's father, had childhood diabetes, and was sick a lot. "He lived until he was 49, but there was no opportunity for him to finish high school, so technically
I was the first Vincent to graduate high school and the first to go to college." Kenneth speaks fondly of several Islanders who have inspired him. "My mother, for one, worked really hard to keep us afloat," Kenneth says. Through her efforts and resources in the community, Kenneth's education as an artist got off to a solid start. "I was fortunate to have Janice Frame, who was a great art teacher at the West Tisbury School and later at the regional high school. I took private lessons from Cynthia Weyman until I went to high school." He also remembers the paintings hanging in the old Humphrey's Bakery in North Tisbury. "Old Mr. Humphrey [Argie] enjoyed painting and loved art in general. My grandfather lived right next door and us kids would get all the stale unsold donuts and feed them to the farm animals, only I would grab a few from the hopper. To this day my mother swears I have a stomach of steel."
When it came time for college, Kenneth was accepted by the Rhode Island School of Design (RISD). "I wanted to pursue illustration because it was commercial art, and maybe I could earn a living. It seemed more practical at the time, less "pie in the sky" than fine art. Illustration is more cerebral, whereas painting is more of a process. Illustration is more about developing technique and craft. If I could have been an editorial illustrator, I would have done it in a heartbeat," he says. Instead, he gravitated to children's book illustration. Kenneth has illustrated eight children's books. But children's book illustration became both less lucrative and less creatively satisfying as the industry shifted to digital illustration and changes in the market began to favor publishers more and reduce pay to artists.
After RISD, he returned to the Island and found himself working as a janitor at the hospital while painting in his spare time. "For one year, I had paintings at the Field Gallery, mostly still-lifes, which didn't sell; nothing sold. "My friend Dave Wallis, also an accomplished artist, was working at the gallery. He said to me, 'People can buy still-lifes anywhere.' He encouraged me to try painting landscapes, more Vineyard-specific art, which does sell."
Kenneth says that he went home and painted an "Allen Whiting knock off." Then he went down to Cedar Tree Neck and did a different painting, "messing around with more geometric forms." He took the paintings back to the gallery, where owner Chris Morse said that he liked both, especially the Allen Whiting knock off, but David Wallis saw more potential in the other painting. "Chris was really supportive either way. He told me 'to go paint five more and bring them back in a week.' He handed me $500 in cash and said, 'Go buy some supplies.'"
With that spark of encouragement, Kenneth got right to work. "I came back three days later with seven paintings in really cheap frames. They put them up on the wall and they sold, all of them in one week." Kenneth thinks that he did well then because he was young and fresh, and it was a time when people were really buying art. By the time art sales slowed down in the recession, he was established, and since then the market has improved again.
Kenneth's first show at the Granary Gallery opened just a week after he got married at the West Tisbury Congregational Church. Soon after, he and his wife Cathleen moved to Boston so that she could attend acupuncture school. "My wife got her degree, and promptly said 'hey, let's have a kid!'" Back on the Vineyard the couple lived in Kenneth's grandfather's house–but it was a one-bedroom. "So we built a house, and once we had a house, we had a child. So then it was time to get a job." Kenneth worked as an art director at Jenni Bick Bookbinding for a while, and now works full time at the Martha's Vineyard Public Charter School, part-time as an art teacher and part-time doing one-on-one support as a teaching assistant. "I like doing both, it's a rewarding challenge," he says. Kenneth has a lot to fit in between painting, his day job, and his family. "I don't get enough sleep, but I guess that's okay."
"I've always wanted to be a serious grown-up, but that can be hard in the art world. There's a lot of permanent childhood going on, on the Vineyard," Kenneth says. "You have to have a little bit of youthful playfulness to function as an artist, because you need to have that playfulness show through your work. It's such a fine line, because if you're too free-spirited, you don't survive financially. Sometimes I struggle with that balance, but I think it pays off, because I do enjoy being a dad, I do bring in the bacon, but I can diminish myself if I don't take time to play."
Kenneth knows, too, that he's far from the first Island artist to struggle to find a balance between practicality and art. He's seen others succeed in the generation before him. "Island painters like Allen Whiting and Rez Williams opened the door to fine art being do-able on Martha's Vineyard," he says. "Before that you had Thomas Hart Benton and Stan Murphy. Stan struggled to get by and never really made a living from his painting. Allen and Rez show their work on and off-Island. They make it seem attainable–to be a real artist here."
"I know he doesn't paint the same way I do," Allen Whiting says of Kenneth, "but the subject matter is something I relate to. We're landscape painters, and there's no better place to paint than on Martha's Vineyard."
Although he was inspired by Allen and Rez, he's finding his own path. "I can see where there's correlation between my work and theirs, but not as much lately. I've spent most of the last ten years figuring out who I am as an artist and what I want to say with my work" Kenneth says. "From a technical standpoint I know now where I want to take it, with no surprises on the way. Sometimes I like pushing the envelope, I enjoy it when I don't know how things are going to turn out."
"That's why the Projected Painting Project was so satisfying." For that project, he worked with artist Traeger DiPietro, both artists simultaneously painting a portrait of the Obamas live, while their work was being projected onto the Edgartown lighthouse.
This coming summer, Kenneth is participating in Whatever the Outcome, a project organized by Craig Miner. In it, artists paint on large magnetic sheets which are then cut up. "Craig is doing my segment at the Chappy Beach Club and the theme of the party is going to be The Great Gatsby, there's going to be a couple hundred people there." Each guest will get a piece of the painting, which they will reassemble at the party like a giant jigsaw puzzle.
"I love painting landscapes, and it brings me a lot, but it doesn't bring me everything," Kenneth says. "I'm thinking of trying portraiture, which is mostly realistic, but I also want to do some work that's totally abstract. I've always been kind of schizophrenic in terms of style." In terms of portraits, he'd like to paint ordinary Islanders like Trippy Barnes or Ted Morgan, and others. "I'd like to document people of that old guard. People like that won't be around forever, and their story needs to be told. On the other hand I want to do something that speaks to the world of contemporary art, the Island and the world in general. I don't know if that will all happen, or if I'll even show it, but it's something that I'd like to do for myself."
Kenneth is currently working in a new studio space at the old West Tisbury police station, a space he shares with Island artist David Wallis. It gives him a space to concentrate on art without the interruptions of work and family. "I really do need this space to be who I am, that's why we pursued and were chosen for this place." Gone are the days of working 12 hours a day in the studio. "Having kids brings your art into a kind of focus that 20-somethings–who are mostly out partying–and drinking Cosmopolitans don't even have."
"Most of my work is deeply personal in a different way," Kenneth says. "My landscapes represent my relationship with this physical place–the Island–and it's always a conversation between memory and now, and what I'd like the future of this place to be, whether it be romantic or pragmatic."
kennethvincentmv.com