SCEEN & SCENE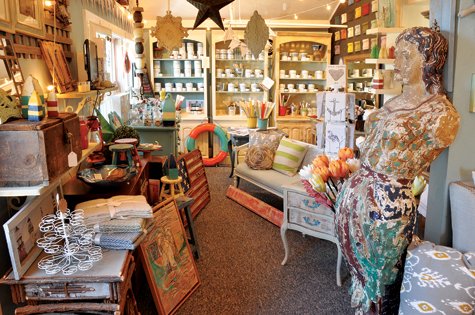 Not Just Fabulous, ReFabulous
By Terrie MacLaren
Reuse, Repaint. Recycle. The philosophy of Refabulous Décor's owner, Anne Marie Eddy, is evident as one enters her cozy shop enveloped by the scent of soft florals wafting through an inviting space glowing in candlelight. Anne Marie's carefully curated selection of candles, decorative housewares, handmade jewelry, fabrics and timeworn treasures blend into a vibe that evokes Vineyard nautical meeting the French countryside.
The backbone of the business is Chalk Paint by Annie Sloan, a product that adheres to most surfaces including wood, metal, concrete and plastic with no pre-preparation required. That's right. No stripping. No sanding. The process requires two coats of paint, a clear wax coat and an optional dark wax coat for an antique effect. Anne Marie says most pieces can be completed in a day. "You see these looks in magazines and wonder how they do it, its an easy process for anyone."
Anne Marie began using Sloane's paints for friends. Eventually leading to a full-kitchen cabinet makeover project which saved her client thousands of dollars by not having to purchase and install new ones. Along the way, several serendipitous meetings with local artisans convinced her it was time to set up a retail space. She believes that her business is a good fit for the Vineyard because "there are a lot of good pieces that people are getting on-Island from estate and yard sales." she says. "They can just repaint to save money." She often works with a local carpenter who repairs thrift store finds and family heirlooms preparing them for Anne Marie to work her magic. Her treatment of the original check-in desk from the Beach Plum Inn only required a few coats of a beachy blue color to breathe new life into this historical piece. The check-in desk was "falling apart" when she purchased it at a tag sale.
Refabulous Décor offers help in creating one-of-a-kind pieces that are chic, earth-friendly and affordable. For do-it-yourselfers wanting to perfect their skills, Anne Marie offers workshops on various techniques including painting, decoupaging, gilding and stenciling. She also provides BYOP (Bring Your Own Piece) workshops off-site for clients who want to socialize with friends while customizing a piece they already own. She encourages clients to explore their creativity when working on a project. "There are no rules", she says, "Just go for it!"
Refabulous Décor is located at 13 Beach Avenue Extension, Vineyard Haven across from the Black Dog restaurant. (508) 560-0960.
www.refabulousdecor.com
.