GARDENER'S NOTEBOOK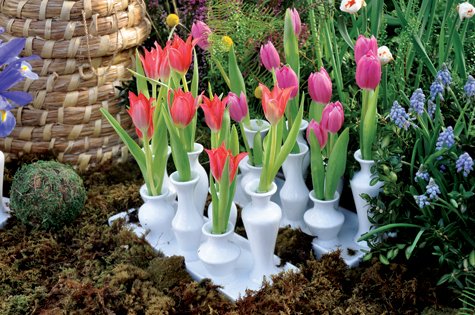 For your most remarkable winter-spring color ever!
Now you can infuse remarkable floral color into your winter-spring home! No need to wait for that first breath of spring, or first crocus. Out at the splendid Donaroma Nursery and Landscape heaven, Mariko Kawaguchi and Sue Weyl stand at the ready, offering tips to help you bring brilliant colorful splashes into your late winter-early spring home arrangements.

Early spring orchids and ladyslippers from the special antique Donaroma greenhouse, create fabulous, very-very early spring decor. Definitely eye-catchers, both have a unique feminine appearance, causing delight in any room. Who could pass up romantic orchids and ladyslippers, softly positioned amidst a favorite fireplace, den or cozy kitchen? These delightful special flowers will bring springtime and May Days into your step!

Another unexpected late winter-early spring treat are the charming little white ceramic vases (tabove), which Mariko and Sue so creatively fill with sprigs of flowers and cuttings, in glorious scented colors, whatever your whim! So very sweet, and unexpected, they will truly delight unexpected guests and visitors. Most importantly, they will delight you and your family, especially after snow shovels, shoes and chores have been put to rest!

Mariko and Sue suggest such scented additions to those sweet vases as ferns, begonias, evergreens, herbs and favorite dried items. Those attractive vases are easy to fill with constant additional seasonal items, as months progress. Just as a certain favorite plant tires, another can perk up it's head! Don't miss Mariko and Sue's remarkable spring cyclamen plants with their fabulously rich color!