MADE ON ISLAND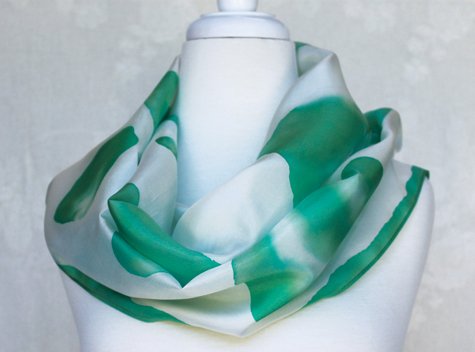 The Heavenly Silk Scarves of Olivia Bell Mason
Fabric artist Olivia Bell Mason has taken the centuries old techniques of textile painting and employed them to create a line of beautifully colored one-of a-kind silk scarves. Each luxurious scarf is handpainted with uniquely blended custom dyes, which conform precisely to four time-honored "color" palettes: Winter, Summer, Spring and Autumn. At any given time, Olivia offers three to four dozen scarves for each "season". "Each person's coloring (skin, eyes and hair) has a dominant characteristic which is a primary factor in deciding his or her season" says Olivia.
Years ago, Olivia availed herself of the services of Wendy Jacobs, a professional color consultant on the Island. Wendy's business, House of Colour MV, offers expert color analysis for clients who would like to know the colors and styles that best suit them, so they can project the very best aspects of their appearance to the world.
"Although most people think they know which colors are right for them, a more scientific analysis will reveal which colors truly make you look your best - having a healthy glow and more youthful vitality," Olivia says. "Wendy really opened my eyes and helped me understand color harmony; I now focus on suggesting colors to my clients that conform to this theory."
Olivia grew up living between South Florida and the Vineyard seasonally, eventually settling in Cohasset, Mass. and raising a family. When the kids went off to college, Olivia enrolled full-time in the Textile Arts program at UMass Dartmouth, where she not only excelled, but fell in love with the process, and began designing her own line of silk scarves. Two years ago, Olivia moved to the island full-time, and started selling retail. Working out of her studio/warehouse in Vineyard Haven, Olivia creates her line of scarves year-round, and sells at The Vineyard Artisan Festivals at The Grange Hall in West Tisbury. Olivia's abstract designs, with their broad strokes and energetic brushwork, are the trademark to her success. Her complete collection includes different weights/textures of silk, as well as rayons and cottons, in tune with cool or warm weather.
For her signature scarf, she paints a watercolor Wampum shell pattern, her most popular design. So discover the beauty of a color-perfect scarf around your neck, and be prepared look and feel simply radiant.
For more information on OliviaBell Mason, click: etsy.com/shop/oliviabelltextiles or E-mail:
olivia@oliviabell.com
or by appointment call: 781-985-5769