DRAWING BOARD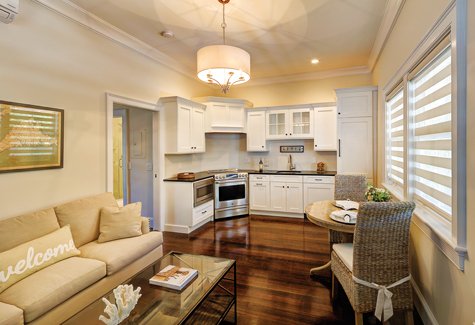 The Renaissance of the Edgartown Village Suites
by Bob Sparks
It all started one sultry August afternoon in 1915 when Manuel Swartz Roberts, Julian Vose, and Thomas Walker purchased a parcel of land at the corner of Winter and Church streets in the heart of Edgartown Village. The three were members of the Oriental Lodge of Free and Accepted Masons, a fraternal organization with roots back to 1733 when the first Masonic Temple was established in Massachusetts, then a colony in the far flung British Empire. A century and a half later in 1866 a group of Edgartonians withdrew from the Martha's Vineyard Masonic Temple, located in Vineyard Haven, and bounced from home to office, from office to attic space until a proper Masonic Temple, or "Lodge" as it was known, was built on the 68 Winter Street site purchased in 1915.

Meetings, conventions, and installations were held in the two story building from 1915 until April 7, 1947 when the organization formally moved two blocks away to the more commodious rooms of the Edgartown Baptist Church located at 20 School Street, recently vacated owing to its merger with the Methodist Church on South Summer Street to form the present day Federated Church.

The Winter Street Masonic Temple was quickly sold off and used for furniture storage and warehouse space and in 1967 Bob Carroll and Alan Jones purchased and renovated the building and incorporated it into their Harborview Hotel and Kelly House properties. Thereafter, the Lodge experienced additional transfers of ownership in 1972, 1982, 1996, and 2002, during which time it functioned as a mid-grade, ten room hotel. A fifth sale in as many decades took place in September 2013 when an off-island couple arrived with a specific vision in mind: to transform the historic old building into six high quality one bedroom micro-condominiums, one of which would be reserved for themselves to be used during visits to their daughter, son-in-law, and granddaughter, newly established residents of Edgartown.

The key to their vision was location. Indeed, Roberts, Vose, and Walker had chosen well. By selecting a site just three blocks from the waterfront and one block from Main Street, the building was but a five minute walk to Harbor activities and all Main Street shops, restaurants, and churches, a fact as appealing to twentieth century Masons as it was to twenty-first century residents and vacationers.

The buyers possessed endless energy and once settled on their project advanced as methodically as General Ulysses S. Grant's drive on the Confederate capital at Richmond in 1865. That is to say, they would not be denied and between January and June 2014 they were present on site three to four days a week, racking up more than 5,000 commuting miles. Aware of the Vineyard's strong commitment to the environment they insisted the project have a "green" footprint. Equally sensitive to the economic challenges of a seasonal marketplace, they insisted that local tradesmen and professionals be utilized as much as possible.

There followed a frantic round of breakfast meetings at Lucky Hanks Coffee Shop, lunches at the Wharf Pub, and dinner meetings at the Seafood Shanty as they interviewed architects, contractors, and designers and then turned full stride to intense on-site conferences with each. The key, cautioned designer Glenn Meader of Good Life New England, was twofold. First, "to make small places look big," not an easy task since each condominium contained just under 500 square feet and secondly, "to do so by transforming drab, unappealing hotel rooms into living spaces which reflected the unique Vineyard lifestyle: refined yet casual, simple yet elegant, modern yet timeless."

Construction began in January 2014 and six months later the EDGARTOWN VILLAGE SUITES opened the first furnished model to the public. Each unit boasts, ten foot ceilings with crown moldings, double sheetrock walls with soundproofing and insulation, refinished original wood floors, remote control central air and heating units, Euro-style gourmet kitchen with silestone or marble countertops and stainless appliances, a living room with access to a front covered porch, a bedroom with built in closet and slider to private rear covered deck, and a full bath with Carrera marble vanity, frameless tiled glass shower, and stacked washer/dryer. Each unit has one assigned off-street parking space and all share a private, rear courtyard "sanctuary garden," complete with bluestone paths, a water fountain, and grilling set-ups, all designed to enhance morning coffee, afternoon sun, and evening reflection. A measure of the project's success are the before and after photographs which accompany this article.

For information on the Edgartown Village Suites arrange a visit or contact Bob Sparks at American Real Estate, 508-932-2657, or Linda Guilford at Island Home Realty, 508-627-0000.