TRENDS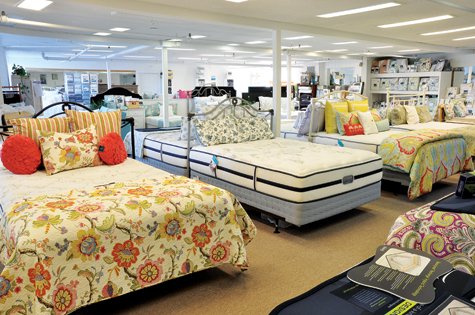 Ocean Breeze Bedding

Revolutionizing Bedtime
Ocean Breeze Bedding in Edgartown is on the cutting edge of what's new in bedding. Not only for the latest innovation in mattresses, Ocean Breeze is the Island's premier resource for the finest in everything for the bedroom.
Tops on the list–for trends in the sleep industry–is the Hybrid mattress from Beautyrest®. The Hybrid design is a combination of AirCool Memory Foam with Micro Gel, together with the legendary Pocketed Coil mattress.This new technology delivers the comfort you want and the support your body needs.
"The Beautyrest Hybrid is a fusion of all the newest technologies in one mattress, unequaled for comfort and support for both body and back," says Bethany Scanlon, owner and manager at Ocean Breeze Bedding located in the Post Office Square at the Triangle in Edgartown.
Bethany, a third generation Islander, learned her industry from the bottom up and three years ago opened her own store. Ocean Breeze Bedding offers mattresses in all sizes and price ranges, as well as a wide assortment of sleep pillows, decorative throw pillows, protective covers, blankets, throws, douvets and quilts. "We're not just a mattress store, we offer a range of bed sheets and accessories, including a high-end line of percale English linens." she says. There's even a line of organic wool blankets and throws–no chemicals, pesticides or antibiotics for the sheep.
To find out more about the Hybrid from Bethany, stop by the huge Ocean Breeze Bedding showroom in Edgartown "where shopping is a breeze."
For more infofmation contact Ocean Breeze Bedding, Inc, Post Office Square, at the Triangle in Edgartown
E-mail:
oceanbreezemv@aol.com
, stop-in, or by appointment: 508-939-9300