HOME PORTRAIT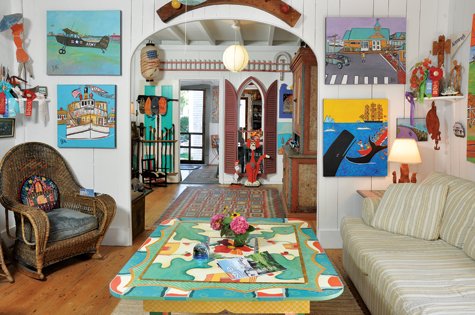 Curators & Caretakers

A Peek Inside the Kirkpatrick-Flor World of Folk Art
By Nina Ferry, Photography by Charlie Utz
A kaleidoscope of hues floods your eyes upon entering the Folk Art House–a privately owned Oak Bluffs home built out of local religious fervor in the 1870s. One of the Campground's relics, this home still totes an original tent post from the Methodist Community where it originated. With a sense of humor, Brian Kirkpatrick and his wife Stephanie Flor have made it their own Eden–transforming the tent post into a biblical allusion by securing a Serpent onto the post, while a forbidden apple looms above.

Atrue ode to Eden, the house lures in tourists and passersby who think the couple's home is the Campground Museum. With a laugh, Stephanie remarks, "We've come home before to a house full of people, strangers admiring our artwork and collectables. It's unreal." Usually inviting people to enjoy the art, Brian and Stephanie feel the joy of sharing their collection. They "wanted a home that was inviting. People come in here and smile. They look around in awe and wonder, they ask questions," says Stephanie.

Treasured Americana and colorful Folk Art characterized by linearity, sharply defined forms, and carefully composed rural landscapes line the walls, ceilings, doors, and stairwell. Each piece of eclectic furniture is Sui genereris, including numerous uniquely crafted lamps. Stephanie says their home in the campground "is like living in a Norman Rockwell painting. You can have your children and your grandchildren here and it's safe; there's a strong sense of family and community. It's like no other place I've lived." Recently hosting their children and grandchildren during the festive week of Illumination Night, Ag Fair, and fireworks, Stephanie and Brian love opening their home to guests and positive energy.

Without renovating, the couple has owned the house since 1988 and chose not to insulate or winterize because "we didn't want it to lose it's magic. We're purists and have left it untouched appreciating the 19th century American craftsmanship," says Stephanie. Even their master bedroom still has the original wall-paint, now secured with a clear lacquer, to maintain the home's character. Outside, a spring rose-arbor leads to a welcoming, yet "wild" side yard speckled with wooden cut outs of Snow White and the Seven Dwarves, Peter Ofinoski sculptures, a self-made seashell-foundation, and tangles of Morning Glory vines and orange Japanese Lanterns.

Brian, a self-taught Folk Artist, previously featured in Vineyard Style as garnered much of his inspiration from painting on his porch and in the garden. A seasoned aficionado, Brian has been collecting and studying American Folk Art since he was 16. Once owner of a gallery in Mystic Connecticut, he says, "most folk artists have a real sense of humor. Each piece is so varied, it's different than anything you can buy in a store." Knowing the story behind each treasure in the house, they alternate narrative perspectives. "The Folk Art we collect goes along with the house. You never buy anything you don't love and the art will tell you everything. It's impossible to forget the story behind a piece," the couple says as they point out a portrait of "Fly Rod Crosby," the famous Cornilia Thurza Crosby, a woman and first state-licensed instructor from Rangeley, Maine who was known for teaching men how to fish and hunt.

Reveling in New England's history, buying local is another code Brian and Stephanie live by. Although they have acquired much of their treasures from the South, where Stephanie lived for many years, they are deeply involved in the art scene here. The wealth of knowledge they share from years of collecting and appreciation of iconic American painters and artists makes them a power team. Only meeting and bringing their collections together some 15 years ago, they realized they had the same taste in art. Neither has to get the other's approval before making a bid on this piece or that.

Their vibrancy for life and attraction to the historical backdrops and ubiquitous animal symbolism found in American Folk Art lead them to collecting Jean Jones Jackson miniatures, Ellery Thompson's itinerant sketches and a Christopher Zhang depiction of Moby Dick. In the midst of seeking specific artifacts, hidden treasures often accumulate, while acquiring most of their prized possessions through shows, estate sales, galleries and word-of-mouth. In a bible bought from an East Chop estate sale, Brian uncovered a handwritten letter on Ulysses S. Grant stationary, written by U.S. Grant's father, Jesse Root. In the letter, Root describes how General Grant is moving 20,000 troops to Tennessee. Elated, Brian says, "Isn't that neat? Sometimes the best finds come when you least expect them."

Although they're firm believers that Folk Art should be on display for all to enjoy and love, the couple has so many pieces, every nook and cranny of their home is bursting with paintings, sculptures, antiques, and folklore. Stephanie says, "we change them out for the seasons. Each holiday features different pieces–Halloween is fabulous." Some of their favorite pieces include many of the paintings, but also an intricate papier-mâché Christmas tree and a cotton-carrying riverboat, with moving parts, acquired from a town hall diorama in Charleston, South Carolina.

Having forged a name for themselves on the Folk Art circuit, Stephanie and Brian are blessed with many one-of-a-kind pieces made especially for them. David Merrill, a wood-carver in the Campground, has transformed spare pieces of Mahogany, dropped off on his porch by Brian and Stephanie, into a beautiful Sea Bass and totem pole. And Dick Jay, a Folk Artist found in the Everglades, transformed a guitar into a Bronco Bill Swinette, one-of-two unique instruments wild with color and imagination. He also carved and cutout his vision of the Solar System for them to decorate the ceiling of their grandchildren's guest room. Stephanie and Brian maintain they are the receivers of these gifts because Folk Artists want someone who appreciates their work. "It's not always about the money," says Brian. Most artists are looking for caretakers, for those who will carry on the stories that each piece tells and share them with people who will in turn continue to share them.

Only starting his art career in 2003, painting miniatures on Masonite, Brian has already established a demand for his work and keeps busy painting, caretaking and collecting. Stephanie, on the other-hand, claims she isn't an artist, while she continues to fill their home with murals she's painted on rainy days, her Bikini Girl pieces, which have received awards at local shows, and her recent rug-hooking projects she's taken on while starting a class taught by Rosalie Powell in West Tisbury.

Together, Stephanie and Brian are curators of their own Island museum and creators of America's next generation of Folk Art.