CUISINE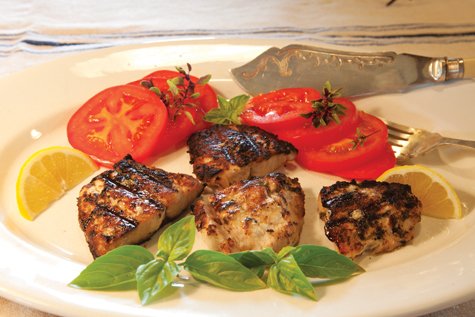 Living Off the Sea

The Essential Chappaquiddick Cookbook
By Lisa Belcastro
Can you believe summer has come and gone? We packed a lot of fun into those glorious warm days, and now the last hurrah of the season has arrived – Derby time! My rod is ready, my heart is pulsing, and I've got a fabulous new cookbook that will provide delicious options for whatever I reel in.

Melinda Fager's Living Off the Sea is going to be your new seafood go-to cookbook if you haven't already purchased it. Few summer residents enjoy the Island as well as Melinda and Jeff Fager. The Fagers have spent thirty-two years on Chappaquiddick living locally, eating the mushrooms, blueberries, and grape leaves Melinda forages from the land, fresh vegetables and fruits she purchases from Slip Away Farm, and every catch Jeff brings in from the sea. Bluefish, stripers, quahogs, little necks, scallops, and bonito have all been prepared, cooked and consumed for breakfast, lunch and dinner at the Fager home.

Living Off the Sea is a product of Melinda and Jeff's passion to enjoy a simple life during the months they are on Island. "Chappy is so satisfying for us, a place to come and get restored," said Melinda. "I can't ride my bike past the grape leaves without stopping to pick some. I've been out to the blueberry patch more times than I can count. And Jeff fishes every day."

Melinda is not kidding about Jeff's enthusiasm for fishing. Rarely a day goes by during their time on Island when the Fagers do not cook and feast on seafood Jeff caught.

"After all the summers we've spent here, Jeff bringing home fish every day, we'd try new recipes and experiment with new ways to cook the fish without masking the flavor, and we felt like we were getting pretty good at it. We love having friends and family over for dinner, and the feedback was always positive," said Melinda as we sat on her back deck and she waved to Jeff as he headed out to sea in hopes of catching dinner.

She married Jeff, who is the chairman of CBS News and executive producer of 60 Minutes, thirty-two years ago. They honeymooned on Island, visited Chappaquiddick, and knew they would return. Ever since then, the Fagers would leave their life in Connecticut and New York City and escape to the Vineyard, renting a cottage on Chappy until the owners offered to sell to them. "We love it here. We have a lot going on back home. When we are here, we are so intertwined, constantly talking and sharing," said Melinda. "When the kids were young we would camp for the whole day on the beach, fishing, eating and having fun with other families who became our good friends."

Melinda, who was a graphic designer, began photographing snapshots of their life on Chappy and the images of the place they loved. After taking a class with renowned photographer Alison Shaw, Melinda decided to pursue her idea of writing a book that told a story of life on Chappaquiddick through words, photographs and delicious recipes using the bounty of the island.

I love that the recipes in Living Off the Sea are only a portion of Melinda's creation. The pages are filled with photos and words that reveal the majesty and humbleness of Chappaquiddick, of simplicity, of family, of a love for nature, and a passion for food. As I read through Melinda's cookbook, I felt as though I'd been invited to the Fager's for a family dinner and into a way of life that is at once unassuming and yet abundant
in its richness.

"We are part of the fishing culture history out here. That's why writing this book strikes a chord. All those people are out there doing it, living off the sea. It is all right here, and we have fun making the most of it."

In the spring of 2012, Melinda began writing and compiling everything she wanted to include in her book. She arrived on island in May and stayed through the scallop season in October. If you can catch it in our Island waters, Melinda has a suggestion for how to prepare it that will honor the natural flavors and freshness of your catch. "We plan our meals around what's available, and there's always something new," said Melinda.

I couldn't pin her down with one favorite recipe, though she told me, "the stuffed bluefish grape leaves are to die for," and that she craves one specialty after exercising. "The best time for smoked bluefish is after our Menemsha bike ride. My husband and I pack some chunks of smoked fish, a little extra sea salt, some lemon and two Ballantine Ales. There is nothing better than the snap of the beer can and the taste of the smoked bluefish when we've finished the ride."

Melinda has shared a few recipes with Vineyard Style readers. You'll never be intimidated by this cookbook, so try these and every other one in the book. Melinda's creations are uncomplicated, focusing on the inherent flavors of the fish, vegetables and fruit. Her gumbo recipe "is great for Derby time. You can throw in whatever you catch."

Melinda's blueberry pie is a family favorite. Though the wild blueberries will no longer be in season this fall, Melinda suggested that you can use the berries you picked and froze, or buy some blueberries and "add peaches or other fresh berries for a mixed berry pie."

When Melinda returns to Connecticut at the end of summer, she begins a busy fall season making applesauce which she occasionally will sell locally under the name - The Great New England Apple Company. You can purchase Melinda's Living Off the Sea at Island bookstores or through Amazon.

Whether you're reeling in your catch, raking your shellfish, or buying locally, your palette will thank you for each and every one of the recipes you prepare from Melinda's Living Off the Sea.


GRILLED BLUEFISH FILLETS
What you need:
Fillets to fit number at your table
Fish marinade (recipe to follow)

Method
Place the fillets in a shallow pan. Cover them with the marinade (see page 45). Cover with foil and place in refrigerator for an hour.

Heat grill to 500 or 600 degrees.

Place fillets skin side down. Cook for 4 minutes with grill covered. Flip the fillet by slipping a metal spatula in between the fish meat and the skin, gently flipping each one onto a clean spot on the grill.

Cook fillets for another 4 minutes.

Spoon leftover marinade to melt over each fillet. Leave the skin on the grill to cook a little longer. (My brother-in-law calls it bacon. It's crispy and delicious.)

Serve with melted butter and lemon wedges and a toss of coarse sea salt.

FISH MARINADE
What you need:
2-3 tablespoons butter
1 teaspoon Dijon mustard
Juice of 1 lemon
1 garlic clove, minced
Salt and pepper
1-2 tablespoons chopped basil leaves

Method
Melt butter in saucepan and add all other ingredients. Spoon this mixture over fish fillets that have been placed skin side down on a platter. Refrigerate for an hour. Near the end of cooking the fish, either on the grill or on the stove, use the leftover marinade to top off your fish.