ON ISLAND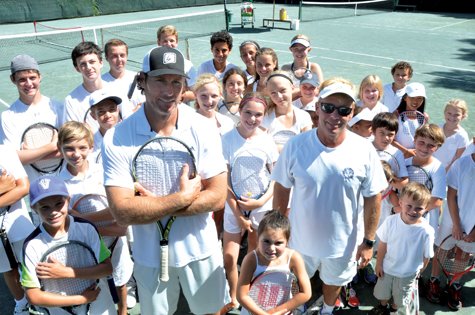 The Vineyard Youth Tennis Center

A Place to Nurture Talent and Create Champions
By Amelia Smith
Martha's Vineyard Youth Tennis gives Island kids access to tennis, year round and for free. Four clay courts, a backboard, and a clubhouse are located on twelve acres near the blinker lights/roundabout in Oak Bluffs. It's a beautiful setting, and the courts are busy, with about 230 kids a week playing here in the summer.
"In the first years it was close to three hundred kids a week," says Executive Director Scott Smith. The Center had a program for four and five year olds, but decided to focus more on slightly older kids. "We're always tweaking [the program] to find out what works and doesn't work." In winter, there's a bubble over two of the courts so that the kids who play here can continue to improve their skills all year long.
The facilities are free. A philanthropist set up a trust fund which will cover the Tennis Center's basic operating costs indefinitely. The Center also holds a few fund raisers to supplement its basic programs. These include a silent auction, an adult tournament, and a mail campaign, which supports Island school tennis programs, provides scholarships to send kids to summer camp, and brings visiting tennis professionals to the center.
In the clubhouse, there are rackets available to borrow. The kids only have to provide their shoes and clothing. Jean LaPlante manages the registration and reception, where she keeps an eye out to see that all of the girls and boys wear their tennis whites. "Everything I do is to make it fair," she says. Jean arranges the registration so that kids who didn't play in one session get first priority for the next session. Summer kids can play if there's room, for a fee, once all the Islanders who want to play have signed up.
Scott started coaching tennis when he was a senior in high school. "It's what I figured I wanted to do," he says. "It's very rewarding when I see these kids, who start when they're six, seven, eight years old and then they're playing college tennis. It makes you feel good." While at the University of Tennessee, Scott got a call to coach at the Nick Bolleteri tennis academy in Florida. "It was the world's best tennis school," Scott says. He took a summer job at the Vineyard Haven Yacht Club, and applied for the job at the Youth Tennis Center when it became available. He and fellow coach Michael Halisky, who came with Scott from Florida, have been here ever since. Coach Michael competes in National tournaments and at one time was ranked Number One in New England. The other full-time coach is Nina Bramhall, who was on the Center's board of directors before she started coaching. A couple of high school tennis players help out part-time, as well.
Scott passes on his dedication to the game to his students. "It's a workout. It's a chess game when you're playing an opponent, figuring out what they're going to do next. And it's social. There's just so many components to it." Islander Peter Burke first came to the Youth Tennis Center with a preschool program. Now twelve years old, the Tisbury resident is on the courts five days a week in the summer, playing on the competitive A team. During the school year, he only comes three times a week. "I just like the playing, I guess," he says. "I like hitting shots. It's fun to go [to USTA tournaments] with friends."
Scott looks out onto the courts to watch some of the younger members of the A team trying a tricky shot. "They all want to get the between-the-legs shot because they see it on TV," he comments. As he talks, he never stops watching the game.
Nathaniel Backus started playing tennis at age seven, and he's seventeen now. He used to live here year-round, but now he's in western New York state most of the year, summering on the Vineyard. "It was a lot of fun," he says of his early experience playing tennis here. "My most favorite thing is the atmosphere here. When I play other places I don't learn nearly as much," Nathaniel says. "When it comes to summer, this is the best place to be."
When Scott and Michael began coaching at the Youth Tennis Center eight years ago, there was a group of eight- and nine-year-old kids who came to play two or three times a week. Those same students stayed with the program, and subsequently led the high school tennis team to win the state championship two years in a row. "In the next couple of years, we're expecting the girl's team to do the best they've ever done," Scott says, with a nod to a few of the older players on the court.
The Youth Tennis Center gives Island children a chance to discover the fun of playing tennis, and improve their skills enough to compete in high school, college and beyond.
To find out more, and for current schedules, visit:
vineyardyouthtennis.org