GARDENER'S NOTEBOOK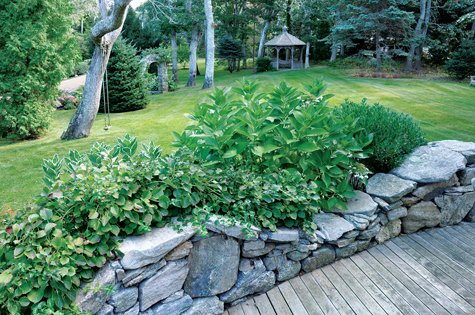 A Quietly Dramatic, Unexpected Garden Treasure
By Jani Gardner
Tranquility abounds as you wander through the stone garden arch, across the gently sloping lawn, past the rope swing, still swaying in the breeze. Unusual landscape settings bespeak this very special, beautifully manicured, century old home.

Hydrangea envelop the elevated wraparound porch of this shingle style Victorian, which offers guests a welcoming sense of grandeur, yet all the while, affording the owners tremendous privacy. The elegant combination of landscape/hardscape do oh-so-much more than beautify this spectacular setting. They work together to frame the views, softening the transitions from one space to another.

Meandering stone retaining walls border the property, as if to follow the wave of a conductor's baton, creating a melodic rhythm of raised flower beds and both deep and shallow planting areas along the base. And the stalwart trees: handsome oak, hemlock and pine, are always at the ready, treasuring this special homeland.

Meanwhile, the lady of the house, who has a marvelous sense of purpose, carefully chose plantings for favorite layouts, molding their home, as well as sharing landscaping ideas, and the history of the garden ("like peeling an onion"). Over the years, this project has turned out to be a one of a kind perfection; a breathtaking apparition, tucked into a quiet Vineyard village.

To see their entire panorama all together, including flowers, is both spectacular and relaxing. When gardeners, Geoff Gibson and Pam Foster of Gibson Landscape, were first hired 19 years ago, there were simply evergreens. Over time they created fantastical lawns/gardens, aligning with the owners' sensibilities. Geoff and son, Tyler, handle hardscapes and Pam designs the remarkable gardens.

Pam and Geoff created impressive low maintenance natural gardens, continuing yearly growth organically. Pam's list of plantings includes the beds on either side of the front walkway, i.e. perennials: gaura, astilbe, anemones and ferns. Annuals include: salvia, angelonia, begonias, lobelia, with petunias nestled in the stones. "The beds along the bottom of the stonewall contain: mop head, Annabelle and lace cap hydrangea, as well as Solomon's seal, Jacob's ladder, astilbe; ferns, rosa "the fairy," begonia and lobelia," tells Pam.

New Dawn rose adorns the stone arbor; the wood arbor offers fragrant honeysuckle; and catmint lines the side entrance. All breathtaking!

Hydrangea and endless roses plus juniper, hollies, native oaks, climbing roses, knock outs and other flowering bushes, lily of the valley, and geraniums soften the transition from the grassy knoll. Always, every single plant is identified. Pam reveals that mulching everything and understandng the shape of the terrain, will suddenly make your space so well groomed.

Geoff will do the architectural design plans for an upcoming woodland garden behind the gazebo in a wooded area, and son Tyler will lay it out.

All stone walls and steps are created by Geoff and Pam.