MADE ON ISLAND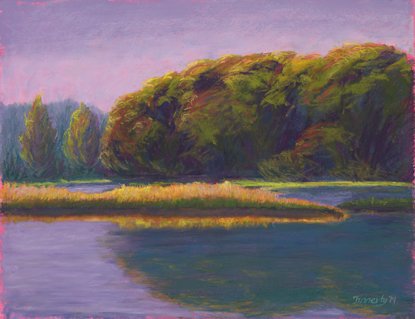 The Renaissance of Anna Lowell Finnerty
Pastel artist Anna Lowell Finnerty's favorite quote is from Claude Monet which reads "Color is my day-long obsession, joy and torment." Anna who goes by "Lowely" (pronounced low-lee) could add to Monet's quote a bit of advice "follow the thing you're most passionate about."
Lowely came late to the artist's life. Though raised in an artistic home on the Upper East Side of Manhattan, her two brothers are painters, her mother an accomplished artist and author, Lowely dabbled in the arts, attending Hampshire College in Amherst, MA, as a photography major. In graduate school she got a Degree in Education. She taught Elementary school kids for 4 years, became a mother of two, and moved to the Vineyard, having spent many summers here. As a single mom she devoted her life to raising her children, she worked in Real Estate, and now has her own Interior Design business named InJoy Interiors.
One day about nine years ago Lowely took a pastels painting class at Featherstone Center for the Arts conducted by the renowned Island artist Ellen McCluskey. Lightning struck, "I was instantly connected to the medium" she explains "there's a beautiful refracted color element to pastels. Pastels are pure color sticks, firm or soft, made with mineral pigments, some with crystals, all from the earth in a thousand colors."
Fast forward through the years of study, experimenting, attending countless workshops around New England, producing an ever improving body of work, Lowely was this year juried into the prestigious Pastel Society of America. Her work is widely shown at The Vineyard Artisans Festivals, in season, and at various group shows and benefits Island wide.
Lowely's pastels can also be seen on-Island at the Gay Head Gallery on State Road in Aquinnah, Gallery owner Megan Ottens-Sargent says "I've known Lowely for more than 25 years, two years ago I saw her at the Artisans and was astonished at the caliber of her new work, I asked her then and there if I could represent her."
Lowely can be spotted anywhere on the Island painting "en plaine air" with a cadre of painters including the likes of Marjorie Mason, Kanta Lipski, Liz Taft and Valentine Estabrook.
For more information on Lowely, call or click:
annalowellfinnerty.com
, 508-693-9302 E-mail:
fogbelle@comcast.net
and at The Gay Head Gallery, call for hours: 508-645-2776