SCENE & SEEN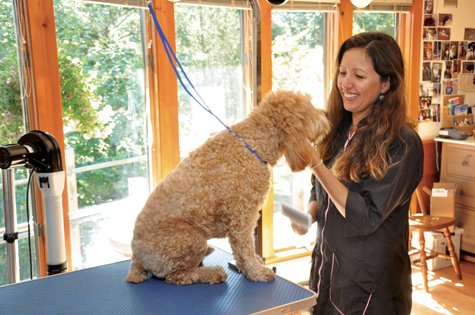 Betsy's Dog Spa
Ruth Darack started grooming dogs in Brookline more then ten years ago. After moving to the Vineyard with her husband, Ruth took a job grooming for Mary Gracing at Groomingdales. Three years ago, full-filling a life long dream, Ruth opened her own Dog Spa on State Road in West Tisbury and lovingly named it after her, now ten year-old, short haired boxer Betsy, "Betsy's just sounds better than 'Ruth's'" says Ruth. Betsy has a Shih Tzu Maltese 'sister' named Dory.

Growing up on the Islands of The Galapagos, Ruth developed a love of animals, "the Galapagos is made up of 24 islands, four of which are quite populated" she says, "Land and sea animals and birds abound there, and are part of the culture, they are respected, appreciated and cared for."

Ruth brings this appreciation and care to the Island of Martha's Vineyard, her spa services include grooming, a doggie day care program, teeth care, nail care, flea and tick baths and de-skunking. "Owners can even come in and 'self wash' their dogs" she explains. "No need to dirty your house or bend over trying to keep your dog in your bathtub at home." Ruth personally designed the facility including bathing tubs and grooming tables, a reception area and the spacious doggie playroom. Ruth has a staff of three, and a host of 12 to 13 year old volunteers. "We also sell dog supplies such as leashes, collars, toys, and tick prevention products," she says.

"Going out for the day and can't bring your dog with you? Our doggie daycare, 8:30 am to 4:30 pm is a place where your dog can play and have a great time with other dogs," she says.

Ruth has many plans for expansion and providing more services in the future, including an outside fenced-in dog run and overnight care. Ruth recently volunteered to groom rescued or homeless dogs at the Animal Shelter of Martha's Vineyard in Edgartown. "An up-do just might help them find a good home" she says.

Ruth resides in Vineyard Haven with her husband, and their two children Bailey and Mateo.

For more information on Betsy's Dog Spa, call or click: betsysdogspa.com 508-955-0540 E-mail: ruth@betsysdogspa.com. The Spa is located: 497 State Road, West Tisbury.