TRENDS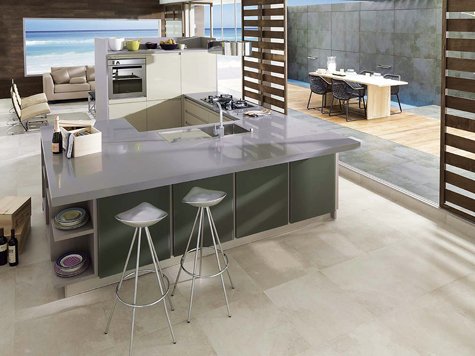 Size Matters, Think Big

EcoStar, The Slate Alternative
by Annie Bradshaw
The days of using 4" and 6'' tiles are dwindling. The trend is to use bigger tiles on both floors and walls. A tile larger than 16'' x 16'' is generally defined as "large format."

Due in part to customer demand, tile manufacturers have lately shifted focus to promoting and providing these larger tiles. One of the premier large format manufacturers is Porcelanosa. Porcelanosa was founded over 40 years ago in Spain with operations in the United States going back over 20 years. They are the trusted leader in large format ceramic and porcelain tiles with homeowners, builders, architects and designers. They have a very effective infrastructure of showrooms throughout the world and Martha's Vineyard Tile Company is their exclusive dealer on the island. Martha's Vineyard Tile Company has over 44 Porcelanosa large format tiles and that's not counting the other 300+ lines they carry in their 2400 sq ft showroom in Vineyard Haven.

One advantage is large format tiles offer the ability to cover a lot of space with fewer pieces of tile and is less grid like. These sizes cover lots of surface and install with minimal grout lines. The overall look is sleek and clean. Another advantage is room perception - large tile make a room appear larger. Let's not disgard that using large tiles results in less grout to clean!