SCENE AND SEEN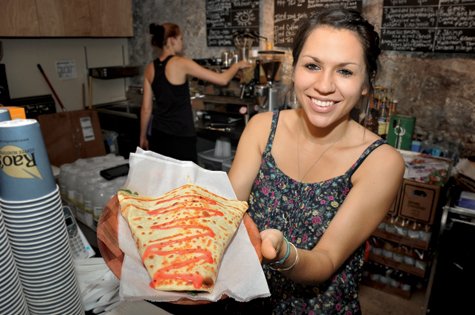 Nat's Nook

A New Creperie in Vineyard Haven
by Amelia Smith
Wandering down Main Street in Vineyard Haven, you might notice a quiet, shaded nook between the shops. A few tables sit in front of a brightly painted wall with cheerful geraniums hanging in planters. If you turn in, you'll discover Nat's Nook, a cozy oasis for coffee, crepes, and more.

Natalie Grewal, the cafe's owner, first came to Martha's Vineyard seven years ago. She worked at Garcia's in West Tisbury, in the space that's now 7A. She intended to stay for one summer, but returned again and again. She now lives here year-round, and is engaged to an Islander, Andrew Kahl, who does custom carpentry and property management.

Andrew helped Natalie bring her vision of a coffee shop to life. He made tables out of wood from the old Edgartown school and built bookshelves in one corner of the cafe. Literary quotes adorn the walls, and pendant lights made from blue mason jars hang from the ceiling. "I wanted to make it homey and cozy and inviting," Natalie says.

When it came to the food, Natalie wanted to do something that we didn't already have on the Island. She'd always liked crepes, so that was a natural choice. She serves coffee and tea from Rao's, a company based in Amherst, plus one locally roasted coffee, Chilmark Dark. The chai is made by Tipu's, a small company in Montana. "I did a lot of taste testing for that," Natalie says. She also serves baked goods from Pain D'Avignion in Hyannis.

The cafe is open from 7-5 every day, and Natalie is there, "all the days, all day, every day. It's wonderful, definitely worth the craziness," she says.