COMMUNITY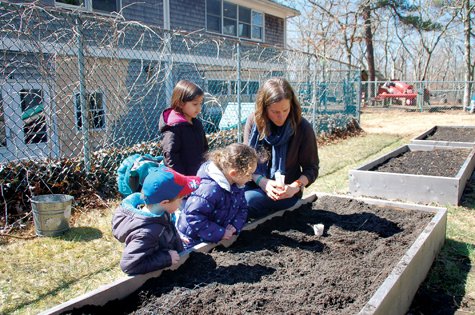 The Martha's Vineyard Community Services

Meeting the Needs and Enhancing the Lives of Islanders Since 1961
by Amelia Smith
Martha's Vineyard Community Services provides a broad and ever-growing range of support services to individuals and families all over the Island. The organization began in 1961when Dr. Milton Mazer founded the mental health clinic here. "The whole field of community psychiatry was brand new," says Julie Fay, executive director of MVCS. From those beginnings, MVCS grew to address other community needs. A decade later, the Early Childhood Program opened, followed by Women's Support Services (now CONNECT to End Violence), Disability Services and the Thrift Shop. These are MVCS's five core programs. Together, they reach over six thousand islanders every year.
The Island Counseling Center helps individuals and families overwhelmed by stress, experiencing difficulties in relationships, struggling with addiction, and in crisis. Meeting those needs requires ongoing work and adjustment to changes in the community, as well as funding and insurance. New projects related to the counseling center include a clinician recruitment campaign, a Crisis Stabilization Unit, and the creation of an Island-Wide Youth Collaborative with several other groups on the Island. The collaborative would allow professionals working with youth to coordinate care without breaching confidentiality. The Crisis Stabilization Unit is to provide in-patient counseling services to young people for short periods of time.
Another goal is to help clinicians on the Island specialize, to develop areas of expertise, so that, for example, if a kid surfaces with an eating disorder, there will be one resource person on the Island who has been specially trained in those diagnostic and treatment concerns. Another piece of the puzzle is to help the families. "The focus quite often in counseling is on the individual," says Nell Coogan, Director of Development and Community Relations. "When you're talking about adolescents, even adults, it's the whole family that's needing help, and there's not a lot of support right now for that family." To that end, the Y is going to host a parent to parent mentoring program, so if a kid is abusing substances they can team that parent with one who has already been through a similar situation.
Early Childhood Services includes a childcare center on the MVCS campus, the Family Center, now in Vineyard Haven, and the Head Start preschool program. The Family Center moved last year, and Julie says that the spirit of giving and volunteerism here really impressed her. "Lots of tradesmen donated time, materials, or gave very deep discounts. We could not have moved so easily without all of that support." Meanwhile, a number of Brazilian families have joined the Head Start preschool program. Nell says that connecting with the Brazilian community here is a top priority, "because our Brazilian neighbors need access to the same resources we all do."
CONNECT to end violence is a domestic violence and rape crisis center providing free and confidential services including a 24-hour hotline and other support services. The new name highlights the fact that violence is not only a problem for women, but can also impact men, children, and elders of whichever gender. "They also focus on prevention activities, which I think is awesome," Julie says. "They work with middle school kids and high school kids around healthy relationships."
The Thrift Shop in Vineyard Haven relies on an army of volunteers. It raises money to help fund MVCS through sales of second-hand clothing, furniture, household goods and more. Some of the volunteers at the thrift shop have been there nearly 30 years, Julie says. "We have ninety-year-olds who run that shop," Nell adds. "It's amazing." MVCS's other major fundraiser is the annual Possible Dreams auction, now in its 36th year. Jimmy Tingle was the auctioneer last year and will return this summer. "He's great, just a funny guy," Julie says. The auction will be held on July 27th this year at the at Winnetu Oceanside Resort.
"It's hard to imagine, without community services, how many different folks and families would just be suffering in a different way," Nell says. "There's so much here, so much support."
For more information, to donate to MVCS or to volunteer, contact: Martha's Vineyard Community Services, 508-693-7900, E-mail:
info@mvcommunityservices.com
, Web:
www.mvcommunityservices.com