GARDENERS NOTEBOOK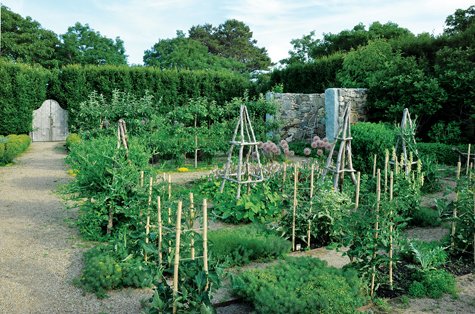 A Secret Walled Vineyard Garden

Romantic, Enclosed, Astonishing
By Jani Gardner
Tucked away in a very private Vineyard space, exists a most enchanting, one of a kind, spectacularly enclosed, walled garden, totally filled with one woman's passion. From her flora, reminiscent of sectionalized, traditional English gardens, to the owner's personal encyclopedia of favorite plant lives–all are brought into a remarkable arena: the ultimate secret garden!

The huge walled garden area is flanked by four semi-circular stone walls, which the owner refers to as etceteras. Natural fieldstone provides extra heat.

The garden's magnitude is an amazing tribute to the owner, gardener and her enthusiastic crew, who evidently left no flower, plant life, nor imagination, behind in the area of creative possibilities.

The remarkably talented Melissa Thomas, Seascape Design gardening landscaper / contractor, with an equally enthusiastic, talented team, has been able to keep this fabulous festival of every possible, aesthetically placed espaliered, unexpected flora and fauna, traditional English hornbeam trees, anula yellow magnolia, compagnula, pears, climbing clematis, (including ceramic and stone pieces too high to touch), all dramatically perfect, right down to an occasional, single errant piece of grass in the unusual stone pavers, quickly removed.

The gardens include eight distinct English and New Zealand style quadrangular sections, with every conceivable plant, flower, and nature item, all the way back to Noah, a frog sculpture, not to mention, totally unexpected pears with aesthetic locust posts. A cutting garden (ah, camelias!), fabulous grape vines and figs, vegetable and flower gardens: asparagus, Japanese cucumbers, potatoes, basil, marigolds, topiary bay leaves, bells and herbs to blissfully scoop up: marjoram, rosemary, cynara artichokes, chervil, tomatoes, and basil to die for, squash, huge apples... Imagine purslane to sauté, daisies dropping seedlings, verbena, nicotiana, white rhodendrons, cockle bells, the sour orange tree. . .

The mind truly boggles at the fabulous imagination of this Vineyard gardener!