CUISINE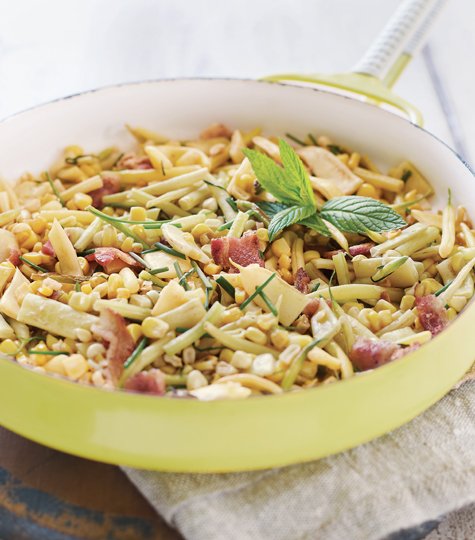 Fresh From the Farm

Islander Susie Middleton authors another must-have cookbook
by Alexandra Grablewski
I love cookbooks. It's impossible to have more than I need because there are recipes in each one that I simply don't want to live without. Can you relate? Do you own a couple dozen well-used cookbooks, but are always on the lookout for another edition to add your collection? This spring I found a new favorite: Fresh From the Farm, A Year of Recipes and Stories by Susie Middleton published by The Taunton Press in 2014. I'm sure it will become one of your favorites too.

The title of Susie's third cookbook couldn't be more perfect. Every recipe that she crafted is one she created with fresh vegetables and herbs from her Green Island Farm. Susie lives year round on Martha's Vineyard, sharing a home and farm with her partner Roy Riley and Roy's daughter Libby. Together, the three of them care for five hundred chickens, and acres of land that produces tomatoes, salad greens, potatoes, eggplants and so much more.

Susie came to farming as a third career choice. A writer since childhood, she graduated with degrees in English and Religion from Duke University, and then went back to school and earned another degree from the Institute of Culinary Education in New York City.

After graduating from culinary school, Susie began working at Al Forno in Providence. A year later she started cooking for a gourmet market, and there she started developing recipes. As a side job, she was writing articles for the Providence Journal.

"I never thought I would work in restaurants for very long. I wanted to write for cooking magazines," said Susie, whose chance came in 1996 when she answered an ad for a debut magazine.

She was hired as the associate editor for Taunton Press' new Fine Cooking magazine. Susie served six years as editor-in-chief, doing her best to keep her passion for writing and cooking alive. "In the beginning, I was still able to write and create recipes. Then the job grew huge, and I missed writing and food."

In 2008, Susie took a sabbatical and came to the Vineyard for a couple of months. She loved it, and decided to move to the Island. A short time later, she met Roy. They rented a garden plot at Native Earth Teaching Farm for a year, and then a friend told Susie and Roy of the property on State Road. In September of 2010 they moved to the land they named Green Island Farm.

Each year Susie and Roy have added more growing areas, increased their hen population, and varied their plantings. They sell well over one hundred thousand eggs every year. Can you picture that? 100,000 eggs! This year, in addition to their popular cherry tomatoes, they are trying the artisan Pink Tiger tomato and the Pink Bumblebee. They also increased their number of eggplants and will be selling the wildly popular Fairytale eggplants. (Hint: Ask Susie for her new recipe using the Fairytales.)

"Growing different vegetables on the farm inspires me to think of ways to use them," said Susie. "I grow vegetables to cook them, and I cook them because I grow them. The two are inextricably linked."

How fortunate for food lovers!

Susie's passion for vegetables motivated her to create recipes that yield a wonderful blend of flavors with instructions anyone can follow. "My recipes look long because I give a lot of details. I also add doneness tests, describing what the dish should look like, taste like and smell like."

I found Susie's recipes easy to understand, and I love the side notes she has included throughout the cookbook. Not only can you learn how to bake Mac 'n Cheese with Kale, Goat Cheese & Sun-dried Tomatoes, but you can also read about how and why she and Roy choose to plant what they do, what sells, what has failed, and why Cocoa Bunny stayed and Ellie the Lovebird had to go.

With her talents for writing, cooking, and growing fresh vegetables, Susie should easily achieve her goal "to never work in an office again," she said with a chuckle, though I knew she was serious. "In my old life, I was busy all the time, never stopping to smell the roses. Now I have a strong sense of gratitude."

Susie generously offered Vineyard Style readers five recipes contained in Fresh From the Farm. Reading any one of these should be more than enough to whet your appetite for more. My favorite to date is the Grill-Roasted Fingerlings with Rosemary, Lemon, Sea Salt & Fresh Corn Vinaigrette, but that could change in a few weeks when the tomatoes are ripe and I whip up Susie's Tangy Garden Gazpacho.

By the end of July we should be able to purchase all the fresh ingredients for the Southwestern Quinoa Salad with Black Beans and Farm Stand Veggies as well as Susie's Corn off the Cob and Yellow Bean Saute with Bacon and Herbs.

If you've got a sweet tooth, rhubarb and strawberries are ripe and waiting for purchase, which is more than a good reason to bake the Gingery Strawberry Rhubarb Crisp with Brown-Sugar Pecan Topping.

My mouth is watering as I type. Susie's recipes are too tempting, even as the clock approaches the midnight hour. If you haven't had a chance to pick up a copy of Fresh From the Farm, drop by Bunch of Grapes or Edgartown Books and treat yourself. You can also purchase Susie's two earlier cookbooks: Fast, Fresh & Green and The Fresh and Green Table. When you're writing up your grocery list of eggs, fresh vegetables and herbs, be sure to stop by Susie's Green Island Farm on State Road, opposite the Fair Grounds. The farm stand is open daily from 8 am to 7 pm.

You can visit Susie on her website at: www.sixburnersue.com, where she continues her story of life on the farm and as well as new recipes. If you're an Instagram fan, Susie is posting 100 Days, 100 Vegetables. Check out her daily pic at: http://instagram.com/sixburnersue

Corn-off-the-Cob and Yellow Bean Saute with Bacon and Herbs
Serves 4

Ingredients
2 strips bacon (about 2 ounces)
1 tablespoon unsalted butter
1 cup small-diced yellow onions
(about 1 small onion)
Kosher salt
1 tablespoon extra-virgin olive oil
1½ cups small-diced yellow wax
beans or green beans
(about 8 ounces)
1½ cups fresh corn kernels
(from 3 ears)
1 teaspoon minced fresh garlic
Freshly ground black pepper
1/4 lemon
1 tablespoon mixed chopped
fresh mint and chives

Method

Cook the bacon in a large (12-inch) nonstick skillet over medium-low heat until crisp, 6 to 8 minutes. Transfer the bacon to paper towels and drain off all but 1 tablespoon of fat in the pan. Add the butter to the skillet and turn the heat to medium. When the butter has melted, add the onions and 1⁄2 teaspoon salt. Cook, stirring occasionally, until the onions have softened and are just starting to brown, 5 to 7 minutes.

Add the olive oil, yellow beans, and 1⁄4 teaspoon salt. Cook, stirring occasionally, until the beans are somewhat shrunken and both the beans and onions are lightly browned, 5 to 7 minutes more. Add the corn kernels and 1⁄4 teaspoon salt. Cook, stirring frequently, until the corn is glistening, slightly shrunken, and slightly darker in color, 3 to 4 minutes. Add the garlic and cook, stirring and scraping the bottom of the pan, until fragrant and well mixed, about 1 minute. Crumble the bacon and add two-thirds of it to the pan. Stir until heated through and remove the pan from the heat.

Season the sauté with a few generous grinds of pepper and a light squeeze of the lemon. Stir in most of the herbs. Let sit for another couple of minutes if you have time. Stir again, scraping the bottom of the pan, and season to taste with more salt, pepper, or lemon juice. Garnish the sauté with the remaining herbs and bacon.