DRAWING BOARD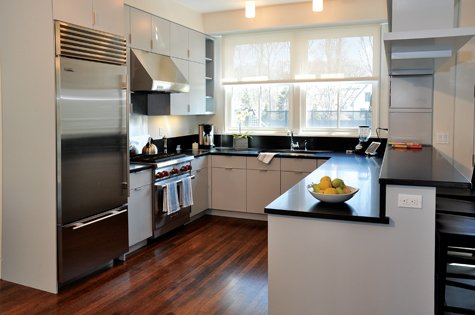 Cabinets with an Accent

Designer Priscilla Tucker Goes Functional
by Amelia Smith
PriscillaTucker of French Accent specializes in cabinet design. She brings high standards, attention to detail, and enthusiasm to her work. Ben Kelley of Building Shelter was the contractor for an Edgartown guest house with a sleek, modern design and extensive cabinetry. He had worked with Priscilla before and called her in on the job. "I like Priscilla," he says. "She's accountable and responsible, so she's been really great to work with." He also liked the fact that the cabinet line she works with uses a more sustainable form of plywood, consistent with his firm's commitment to the environment.
Robert Linn of Moskow Linn Architects designed the building. He describes its style as: "something that feels like it is of the place, taking cues from vernacular New England architecture but with a contemporary twist. It's more crisp, with more contemporary detailing."
Those details included precise gaps around the cabinet edges. "It was like a puzzle," says Priscilla, with her distinct French accent. "We measured so many times. We must have measured that space eight times." The satin gray slab doors with edge pull handles have no frills to distract the eye.
"When you look at it, it looks simple," Ben says, but in terms of installation: "It was very, very tricky." The gap between the frame and the doors, or between the edges of two doors, is a quarter-inch, with exactly a half-inch gap between the cabinet edge and the wall. There's no casing to compensate for any imprecise alignments. Each piece, and each carefully measured gap, matches its counterpart across the small kitchen. Inch-and-a-half thick shelves hang over a black granite bar, suspended by steel rods run down from the second floor. This creates a partial screen between the kitchen area and the adjoining great room, where a blue slate floor extends past tall, floor-to-ceiling to the patio outside.
"There was a lot of cabinetry in the house, because we had to take advantage of all these small spaces," says architect Robert Linn. "Priscilla was very responsive to our original designs and tried to get us what we were looking for. There was a lot of back and forth until we found something that we all felt good about."
"The client was involved a lot, and the architect," Ben says. "We were trying to make it work, and to keep the client abreast of all the details, and why we were doing what we were doing." Priscilla re-drew drawings as needed and was in frequent communication with the others as they worked out the details.
Priscilla studied interior design at Cégep Garneau, a college in Quebec City. A native French speaker, she first came to Martha's Vineyard for a summer to improve her English. She waitressed at the Lamppost and cleaned houses. "I met a guy here and he moved back to Canada with me for two years." There, she worked for a design firm in Montreal where her job was to do 3D drawings and she rendered as many as three projects in a week.
She returned to the Vineyard in 2005 and worked at Vineyard Home Center for seven years, doing kitchen design. In the back of her mind, though, she says that she always thought about starting her own business. In March of 2011, she got the opportunity to rent a space in the Tisbury Marketplace. "This was perfect, just the perfect size and a nice location," she says. Her store, French Accent, offers a variety of countertops along with semi-custom cabinets by Cabico, a company which, like Priscilla, is from Quebec.
Priscilla covers every aspect of the work, and though she misses having the time to do hand-drawing, she enjoys the variety of her current work. "Here, I do sales, project management, and design," she says. "It's another phase that I like, to go to the job site when it's just rough frame and measure. I like to work direct with the customer but I also like to work with the architect and the contractor, and to resolve the problems."
She is enthusiastic about the product. "They're very flexible," she says. "There are so many things we can do with cabinets, for the whole house." This project in Edgartown is a testament to that flexibility. The sleek gray cabinets and black granite countertops are found not only in the kitchen but also in the baths and in a bar area upstairs. Priscilla fitted the wardrobes in the bedroom, too, along with shelving and drawers in a pantry closet. The guest house showcases many roles of cabinetry, and is a testament to Priscilla Tucker's work. vs
Priscilla Tucker can be found at her store, French Accent, in the Tisbury Marketplace. 508-687-9812
www.frenchaccentmv.com