GARDENERS NOTEBOOK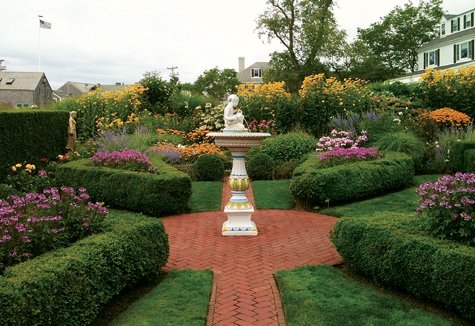 The Changing of the Guard at The Avant Gardener

Ryan J. White Fills Some Really Big Shoes
By Jani Gardner
An amazing young man named Ryan J.White, was thrilled to apprentice for the extraordinary Michael Feraca, the original Avant Gardener, starting at age 13. Evidently Ryan watched and learned almost microscopically, devouring each discussion of style, taste, and workmanship. Now Ryan is the Master Gardener, possessing a genuine reverence for the privacy of the owners of such superlative Edgartown fairy tale gardens.
As his knowledge base/capabilities grew, he learned volumes, veritably inhaling teacher Michael's every word, discussion, plans, totally original ideas and executions thereof. Sadly, Michael passed away suddenly, a year ago, an unexpected shock to all, especially the North Water Street garden owners, who now constantly appreciate the finely-tuned care and concern of Ryan White. In fact, the Courtyard Garden at Tara By The Sea is where The Avant Gardener began, designed by Michael in the early 80s.
Ryan's goal is to enhance his clients' lifestyle, as in times when the gardener came with the house. Ryan hates the words "gardening business. This is about art and lifestyle, bringing back the old style, with tucked-in shirts, well-spoken gardeners; enthusiastic, delighted to be involved with the earth, appreciating tradition, Downton Abbey style."
"Our British and Parisian styles are all about form: big on outside rooms, continuity of theme, variety of texture, like conducting a garden symphony: a beginning, a middle and an end...truly an avant garden" says Ryan. "Michael taught us that gardens need to have good bones...to understand what is anticipated... pick a centerpiece and work your way out: be it an English statue or an Italian fountain."
To view The Avant Gardener's online portfolio click-on:
www.avantgardenermv.com
.