CUISINE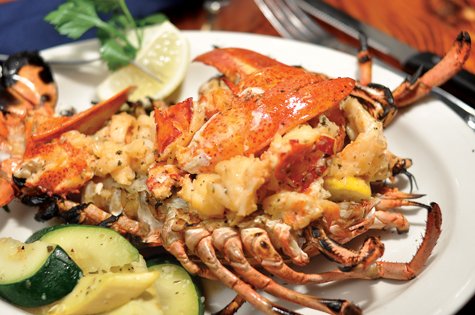 Feeding The Generations

The Square Rigger-A Classic Island Restaurant
Nina E. Ferry
Captained by the same family for nearly 20 years, The Square Rigger Restaurant, at the Triangle, in Edgartown is a familial place offering nautical relics and local hospitality. When I was growing up, Saturday nights usually meant a sleepover at Grammie's house, a dinner date at our favorite restaurant and church in the morning. Being a long-time Edgartown resident, Grammie would choose The Rigger—where everybody knows your name and enjoys your story. A stiff Sapphire and Tonic would be at her favorite table before we were seated and she knew I'd never get bored watching the chefs as they played with fire behind the open hearth.
Owned by Tony and Doreen Rezendes, The Square Rigger Restaurant has been an Island family favorite for decades. "Everyone has a story about The Rigger. We've watched many families grow; the children and grandchildren always stop in when they're on island," says Doreen. Affectionately deemed "The Rigger," this 19th century building has been serving up quality aged Steaks, local Seafood and Ten Tempting Lobster entrees since 1994.
Head Chef and son of Tony and Doreen, Dana Rezendes welcomes both new diners and regulars year-round. "I'm happy with what we've been doing and how we continue to do it. We offer consistency: quality food and quality service. Both customers and staff see us as a family, a big-extended family," says Dana.
To remember Grammie, we still go to The Rigger for family dinners and celebrations. On December 26th, my dad's clan will fill the front room with 25 or more, everyone telling their own Rigger story. My grandfather, who comes up from Florida, shares colorful tales from the 60s—followed by how my parents met each other there in the 70s.
Bringing a large group is encouraged as long as you book ahead. With only 65 seats reservations are a must in the summer and recommended year-round. Still inviting walk-in guests, the occasional bar seat, or prized table will often open up at the right time. The Rigger maintains a large menu with many options to satisfy all.
As one of the few restaurants to hold a Retail Fish Permit, The Rigger can source directly when the fishing seasons are right. In the winter months, local Bay Scallops are harvested daily and delivered through the backdoor. Served broiled with lemon and butter—sweet and succulent, their season is always too short.
In the height of the summer, Commercial Striped Bass season lures Dana and his father to the Island's North Shore for a fishing work trip. "With the Stripers—catching them and cooking them for customers is the most rewarding thing a chef could ask for," says Dana. Never needing an excuse to go fishing, it's a way to decompress from a busy summer day. "Locally, we have an advantage with the Striped Bass that we're serving," says Dana. "As soon as I've landed a fish and it's legal, I bleed it on the beach. It's really a more humane way of killing the fish and it makes a huge difference with the purity of taste. The blood tends to taint the meat, intensifying that fishy flavor that many people don't like." Serving his self-caught Bass provides a fresh clean taste. Grilling the meaty fish with a splash of lemon, or serving it with a Soy-Ginger glaze over Wasabi mashed potatoes, provides a special that's rarely available by the end of the night. "The Bass sells it's self: straight from sea to table," says Dana. "I love catching a Striper in the morning and serving it that night. "I sacrifice sleep for something I really enjoy and our customers love."
Another unique element to The Rigger is the house salad served with every meal. "Salad is a nice addition that our customers appreciate and look forward to. It's one of the extra little things that we do," says Dana.
The Clams Casino, also a standout dish, is my favorite treat on the menu; an item my family members refuse to share. Broiled Littlenecks with bacon, breadcrumbs and the prized casino butter, make up this recipe—one Dana is not wiling to part with.
For a lighter meal, their homemade Quahog Chowder, a family recipe made by Tony, can be ordered on its own, or paired with their famous Lobster Roll. Large succulent chunks of lobster meat spilling out of a grilled New England bun can be enjoyed warm, sautéed in butter, or chilled, and tossed lightly with mayo. The Lobster Roll is the featured item at the summer Take-Out Window, whether enjoying it for a sunset beach picnic, or an impressive summer treat for guests. "The most popular items change seasonally," says Dana. "Prime Rib throughout the winter season and lobsters in the summer."
Although anything on the dining-in dining room menu can be ordered for take-out, many items are better enjoyed at the restaurant. The Grilled Lobster, a unique presentation, is served with fresh claw and knuckle meat, sautéed in a tangy-lemon-and-garlic-butter, and laid over the grilled body; it's sensationally rich. Developed by Dana, it was originally run as a special, but became so popular it was one of few items to be added to the menu. If you're feeling gluttonous, which I often am, one can enjoy any of the lobster entrees stuffed with extra lobster meat. For a reasonable up-charge, you can get twice the lobster meat without the fuss. "Many of our customers order the double-stuffed lobsters. They like the ease of having someone else do the 'picking' for them, while enjoying this traditional New England favorite," says Dana.
For the meat eaters like my dad and grandfather, the Rigger's Prime Rib is bar none. Served with a pop over, a baked potato and a house vegetable, it's sliced on the open hearth and au-jus dipped to temperature before your eyes. For the Caveman in the family, a Captain's Cut is a must. Nearly 20 ounces bone-in, this cut of meat stops most people in their tracks.
The Rigger's aged steaks, sourced from Kinnealey Meats in Boston, require little seasoning and are grilled to perfection. The open hearth provides entertainment, aroma, and character for the customers, and is a reward for the chefs. "There's a bit more care at The Rigger because we're in the dining room searing the juices into your steak and putting just the right grill marks on. We see the surprise on customers' faces as they crack a lobster for the first time, or the temptation as they walk past a plated or sizzling Prime Rib. Seeing whom you're feeding brings the experience full circle. As a chef, you want to know you're always providing the best dining experience," says Dana.
Skilled under pressure, the chefs have all been cooking for a long time. "Every chef I've worked under has been a mentor—including my mother and father. I started washing dishes at the Homeport and was cooking for their Backdoor take-out at age 15," says Dana. But true to the food, he adds, "Our cooking technique is really secondary to starting with good quality meats, which for 20 years we've been buying from the same purveyor. Each year I try new sources and when we compare them side by side, the competitors just don't stand up. Kinnealey dry-ages their steaks—couple that with consistent marbling and fat content and they're dynamite."
Now stepping away from the line and taking more of a management role Dana misses being out front. He says, "Managing the restaurant presents a whole other set of challenges. It's the natural progression of a family business—shared responsibility." Managing with his parents and his sister, Jenny Dowd, everyone does their part. Retaining the same staff and servers for many years, Dana says, "We've become like family—there's a level above just work. People come back for the total package. We present a very consistent food and service experience, which would be difficult to achieve if we didn't have a supportive staff who understood our mission. They deserve a lot of credit because they take pride in their work, often knowing exactly what our regulars like to eat and drink before they even order," says Dana.
The seasonal Island economy presents many challenges for the few year-round restaurants, but the Rezendes family values their relationships with their clientele and want to be open for Islanders year-round. "There's a level of comfort that grows between our regular customers and our staff. We have an appreciation for their dedication to our restaurant. As our relationship grows with them, they respond. They come out in the dead of winter, they're happy to be there and we're happy to have them," says Dana.
Looking to the future, The Rigger will continue serving great drinks—Old Fashions, Dirty Martinis and hand-selected wines. They'll be there to stock your lunch cooler with signature sandwiches and burgers. They'll be there when you host a family party, or birthday bash and they'll even cater an event at your home. "It's all about managing our time," says Dana. "We have a tight busy window of 120 days and then months to build a rapport with our regulars. I'd like to focus on what people have to say and continue to improve, while putting out food that people want to come back for."
Being an Islander myself, I appreciate the laid-back atmosphere of The Rigger. I enjoy hearing tales from the past whenever I'm there, and I always end my meal with their Mudslide Pie. A frozen pie inspired by a cooking class Dana took at Johnson and Wales "We started talking about making an ice cream pie and it just came to me—adding Baileys and Kahlua to ice cream, how can you go wrong?" he says.
Fortunately for me, I've succeeded in truly becoming a part of this family. Not only do I regularly eat here with my family, but in between my travelling, I've been a member of this crew for a long time. Promoted to management a year ago, I am now lucky enough to assist with charting the future course of this ship. I'm honored to be working with, and learning from, the Rezendes family. However, minus the sentiment and the job title, the real reason I keep coming back is because even after 11 years, my taste buds water as I peruse the menu and I still have difficulty deciding what to choose for dinner.
Square Rigger Restaurant
225 Edgartown Vineyard Haven Rd, Edgartown • 508-627-9968
www.squareriggerrestaurant.com
Grilled Lobster with Additional Sautéed Claw and Knuckle Meat
Recipe serves 4
Prep time: 40 minutes
Cooking time: 15 minutes
Ingredients
4 each 1½ lbs lobsters
1 stick of butter
1 tsp fresh Basil, chopped
1 lemon, cut into wedges
1 tsp. Garlic
Method:
1 Set a pot of water to boil, using about 3 inches of water.
2 With lobster on its back, use a sharp knife to cut body—do not cut all the way through the shell. Start at the head and cut down to the tail.
3 Remove any guts that may be in the lobster, careful not to remove the translucent meat.
4 Remove claws and place them in the steaming pot of water for 10 minutes, or until bright red.
5 When claws are cool enough to handle, pick the meat from claws and knuckles and put in a pan with the above ingredients. Set aside.
6 Place the lobster body face down on hot grill, careful not to burn it. Flip lobster after approximately 5 minutes and grill shell side down for another 5 minutes. Grill until meat is no longer translucent (10-15 minutes, depending on grill temperature.)
7 Place lobsters, back down on serving platter or individual plates.
8 Sautee picked lobster meat with spices and butter until butter melts. (Do not overcook, as lobster meat is already cooked.)
9 Lay the sautéed meat in each of the grilled bodies. Include a cooked lemon wedge in each for garnish, and drizzle remaining butter over each lobster, as desired.
10 Garnish with a lemon wedge.