TRENDS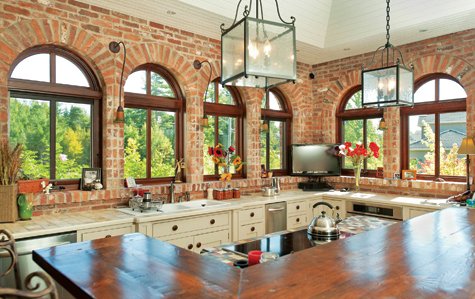 Through the Glass Splendidly

Norwood Windows and Doors
By John Budris
In some 30 years of writing about all things architectural, I've closed many windows and opened many doors. But none as exquisite as those built by the expert craftsmen at Norwood Windows, a seasoned company based in the Canadian maritime province of New Brunswick.

For six decades, the ethic at Norwood remains constant: One window, one door, one customer at a time. You won't find any robots rolling out mass-produced windows. What you'll find are North America's most skilled woodworkers and glass fabricators, using the finest quality woods and materials, all creating functional works of art under the most exacting standards.

"If you can imagine it - we can, and will - build it." says Bill Allen, one of Norwood's customer liaisons. That's why discriminating architects and homeowners on both sides of the border are choosing Norwood as the elite product, for both residential and commercial applications. Especially in seaside communities, where the punishing conditions of sun, wind, and water are a constant challenge around the calendar, the aesthetics and performance of Norwood windows and doors are unmatched in the high end market. In fact, about half of Norwood's annual sales land inl coastal communities of the U.S. eastern seaboard.

The design options in new construction notwithstanding, Norwood's broad palette of trim styles, hardware, coating colors, glazing and wood options make an ideal match for historical EE and restorations of vintage buildings, where matching traditional materials and appearance is paramount. Although manufactured in Canada, Norwood's premium products meet the U.S. Department of Energy's ENERGY STAR label and qualify for LEED certification.

In order to customize the look and demand of every application, Norwood also has a selection of aluminum clad wood and fiberglass products. And the accolades just keep on coming.

Norwood's unique, multi-step coating and wood preserving process - done before assembly - allows a very confident 15-year warranty on the exterior finish. That's as good as it gets.