ARTIST PROFILE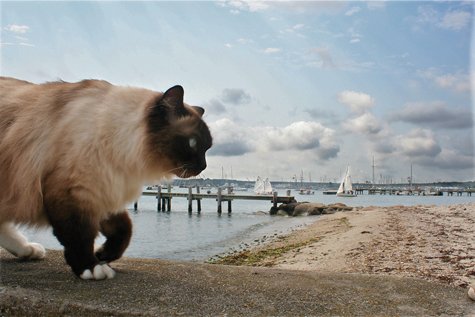 Here Come the Cats of Martha's Vineyard

An Intimate Peek Through the Lens of Photographer Lynn Christoffers
Profile by Catherine Finch
Cats of Martha's Vineyard, by Lynn Christoffers, is an extraordinary work of fine art - the photographs a feast for the eyes, and the stories nourishment for the soul.

Lynn has an indisputable rapport with cats and, as any cat lover knows, that is no small achievement. In fact, it was through her special connection to the feline species that she got to know a great many of the humans on the Island. The gorgeous cat on the cover of her book is a perfect example.

In the early spring of 2009, Lynn drove to the Chilmark Bank where a dark-striped Maine Coon cat sat by the side of the parking lot and introduced himself to her. They instantly connected. She grabbed her camera and proceeded with a photo session right then and there. For the next half hour the gregarious cat posed in his friendly manner, rolling over and proudly showing off his tummy.

Several months later, with photos in hand, Lynn tried to find where the Maine Coon lived. She drove up a driveway next to the bank and there he was with cheerful welcome, introducing her to a female of lighter color. No one answered Lynn's knock on the door, so she left a note of introduction. When the owner called, she informed Lynn the outgoing cat was MilkyWay and the lighter one, Snickers. Lynn was granted another photo shoot and thus began a friendship with MilkyWay's person, Betsy Shay.

Another day, Lynn took a shortcut on a back road through the forest to the high school and spotted a striking seal point Siamese. As one would expect, she stopped to photograph the cat, who then jumped right into her car and lay across the dashboard as if it were the most natural thing in the world to do. After an extended bit of investigation, Lynn discovered the cat had been abandoned by owners who'd moved off island, so she adopted the companionable feline and called her Lady Diana. They've been the best of friends ever since. Diana is gracefully comfortable in the forest or on a sandy beach, in a small cabin or an apartment in New York City - as long as she has Lynn to travel alongside her.

Cats of Martha's Vineyard is filled with all variety of felines, from the pedigree with papers to the alley cat, from the shy and quiet to the outgoing and demanding, from the Hospice helper to the barn cat, from the sea view estate to the shelter cat, from the laundromat worker to the film star–and the same could be said for their people. "We're all in this together," Lynn explained. "The book took on another life, became a feel good thing, bringing people together in a nice way. We need something to feel good about these days."

Sue Hruby of West Tisbury spoke of Lynn's unique look into the lives of cats and their humans. People walk their dogs every day, but to see a cat out with its person is not so common. "Cats are private and wild." Sue remarked. "They will show their heart, but they have to trust you. Lynn captures the things we don't get to see and seeing someone snuggle a cat makes me smile. The pictures are magical, the cats on the beach, spectacular. Anyone who engages with animals in a profound way will love this masterpiece of a book."

Jan Pogue, founder of the publishing house Vineyard Stories and a self-proclaimed dog person, became Lynn's advisor and distributor. "Through her book, Lynn taught me the deep-seated love that cat people have for their cats," said Jan. "I had no idea of their attachment." She laughed and added, "Sometimes it seems the cat is the person and owns the human."

After Lynn's book became available this past winter, people began to recognize each other through their cats. Conversations at parties, in waiting rooms, or on the ferry often start: "Aren't you so-and-so's mom?" or "Don't you belong to that big orange cat who always…" or "I saw you in Lynn's book, how is your cat…" and so forth. Heart-warming stories follow with new connections forged. Between Lynn's quiet, appreciative demeanor, which draws cats in, and her artist's camera, she's brought the Island together in a manner to be enjoyed for many years to come.

Leroy Hazelton, bookseller at the Bunch of Grapes Bookstore, thinks the book will have a longer run than normal because it's based on "regular island folk." He explained that a lot of people come into the bookstore wanting a book that gives them a real feel for the Island. "Cats of Martha's Vineyard looks good on the shelf and is about the Island. Lynn's excellent photography shows the personality of the cats in a context of their family and the Vineyard. That's a nice circle." Leroy also noted the high quality of Lynn's large format paperback book, designed with a clean, crisp look by Jane McTeigue of Lightning Pink Design and printed by Vineyard Stories.
Well received by the International Center of Photography (ICP) and featured in the Winter 2014 issue of Bulletin, a magazine of the American Society of Media Photographers (ASMP), Cats of Martha's Vineyard is a showcase for Lynn's eye for composition and color. Able to reveal the heart of a cat together with the glory of the Island's varied landscapes through her photography, Lynn's book deserves all the attention it's getting from far beyond the island.

Lynn asked people to write something about their special feline friends to include with the photographs. These stories in turn helped her to organize the book's chapters, which are arranged around the cycle of life.

The first chapters, "Beginnings" and "Naming Cats," are obvious, but then follows, "Relations," having to do with the island and its extended feline families - children, grandchildren, siblings and cousins – which are often kept track of here.

"Jobs," "Special Talents," "Characters," and "Companions" frame the middle cycle of life. All kinds of stories abound in these chapters. There's even a cat named Zoe who used to make the rounds visiting Hospice patients in Windemere and the hospital. "It was really rather amazing to just carry her down the hallways – she had no fear, simply relaxing into my arms - no crate for her! – and greeting people along the way," wrote Zoe's person, Juleann VanBelle.

Another chapter of note is, "Lots of Cats," which, besides big families, includes three different animal shelters, one each in West Tisbury, Oak Bluffs and Edgartown. Amazing to think the Island needs three rescue sanctuaries, but the sad fact is that at the end of every summer season cats are still abandoned by their people. The chapter that follows is, "Survivors." Cats do seem to have nine lives.

The book wraps up with, "In Memory," giving a list of the cats and people featured in the book who have passed on and a "Directory," where the 101 cat families are listed by town. So often, there is sadness in the end, especially since people, for the most part, outlive their cat companions, but perhaps that's where some of the deepest teachings lie in the feline and human relationship.

Take MilkyWay, the cat mentioned at the beginning of this article. Not the stereotypical reserved cat, he liked to meet humans and sought them out, as he did Lynn five years ago. This winter he was hit by a car, which devastated his family and Lynn. "I'm so sorry for your loss. He was one of the most loving cats I've ever met," Lynn wrote to Betsy. "He lived his life as he wanted to live it, and wandering was part of that. He wouldn't have been happy inside. You and your family gave him a wonderful home. His lively spirit shows in my cover shot for the book – what a gift he gave. And now everyone who picks up the cat book has a little bit of MilkyWay's love."

The last photo inside Lynn's book is a spunky looking kitten named Suzette, showing us life does go on in its cycle of seasons, spring really does return.