SCENE AND SEEN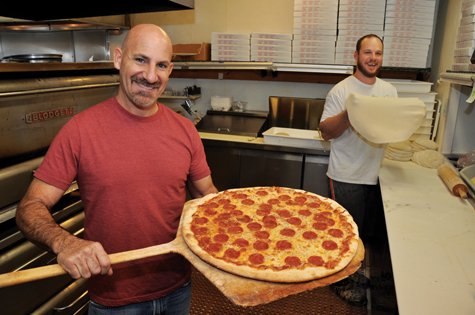 Rocco's Pizza Rocks Year-Round
By Karla Araujo
Cousins Christopher Pantalone and Peter Sullo opened Rocco's Pizzeria in a snowstorm and they've been producing up to 200 pizzas a day ever since. Located at Tisbury Marketplace in Vineyard Haven, Rocco's has built a loyal following among Islanders hungry for the taste of fresh, homemade dough, zesty ingred-ients, salads, pastas, hearty Italian favorites like chicken and eggplant parmigiana, lasagna, calzones, spaghetti and meatballs, and sandwiches served on fresh-baked Italian bread.
Both Chris and Peter had worked in the restaurant business and lived on and off the Island when they opened their pizzaria in the Marketplace. "We had considered opening in Florida," Chris says. "But when Peter found this spot we knew it was right." Now in their seventh season, Rocco's has become a family business. Peter's three children, Nicholi, Anthony, Gabrielle, and niece Brianna are on board, as well as Adine Cerqueira aka: "Mommy" discribed as "our backbone" who joined at the outset and is responsible for making all the bread and pizza dough, general chores, and the fantastic meatballs.
With indoor seating year-round and outdoors on the upstairs deck in season (don't miss the view of the harbor), Rocco's also offers beer and wine. According to Chris, "While the summer is our busiest time, the off-season is holding steady. Everybody else closes," he explains. While he admits that his own favorite pizza is plain cheese, their Pepperoni, the Meat Lover's, and Pesto pizzas are bestsellers. They've even added gluten-free nine-inch pizza to the menu.
Stop in on Monday and Tuesday nights during the off-season when local live bands provide free entertain-ment. The best accomp-animent: Rocco's Pasta Fagioli, a traditional pasta and bean soup that's guaranteed to warm you up. And don't miss the coupons featured on their pizza boxes: collect 10 and you've earned a free c
heese pizza.
Rocco's, located at the Tisbury Marketplace, 79 Beach Road,
Vineyard Haven, is open seven days a week year-round. Winter hours: Monday-Thursday, 11:30am to 8pm;
Friday and Saturday to 9pm; Sunday, 4-8pm.
Phone: 508-693-1125.
To see a menu, visit
www.marthasvineyardpizza.com
.