MADE ON ISLAND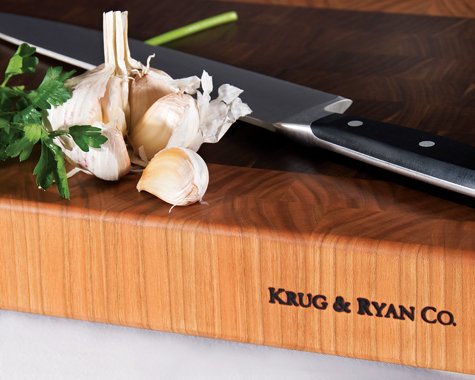 John Duryea's Hardwood Butcher Blocks
John Duryea, of Krug & Ryan Co., crafts end-grain butcher blocks; beautiful, durable, and designed to keep a cook's knives in top condition. "This is the old way of doing it," John says. "Most commercially produced cutting boards are edge-grained," he says. With an edge-grained board, the knife saws across the grain, dulling the edge. On an end-grain butcher block, the blade passes between the wood's grain, which comes back together, leaving both knife and cutting board in good condition. Further, scientific studies show that wood has natural anti-bacterial properties, a practical advantage over plastic, not to mention the aesthetics.
John first came to Martha's Vineyard when he was in college and spent a summer painting houses. He returned to settle here permanently, working in construction for many years. One sunny Fourth of July, he and his friend Tom McDonald sat on the beach, talking about getting into furniture making. They went as far as making up a company name, which combined their mothers' maiden names, Krug and Ryan. The idea went dormant until the summer of 2007, when Tom and his girlfriend, as well as five other couples, got married. It was the height of the recession, work was scarce, and John had to come up with half a dozen wedding presents.
He made butcher blocks, branded with the name "Krug & Ryan," an in joke for his friend Tom. He hasn't stopped since. "Everyone was very encouraging," John says. His blocks display a kaleidescope pattern of wood grain made from North American hardwoods including black walnut, cherry, white oak, and rock maple. They're cut, glued, smoothed, and arrayed in blocks ranging form 6" x 9" to entire counter-tops, then finished with mineral oil and beeswax. John now makes artisanal butcher blocks full-time, selling them at the Vineyard Artisans' festivals, national Arts & Crafts shows and through his website.
www.krugandryan.com