ON ISLAND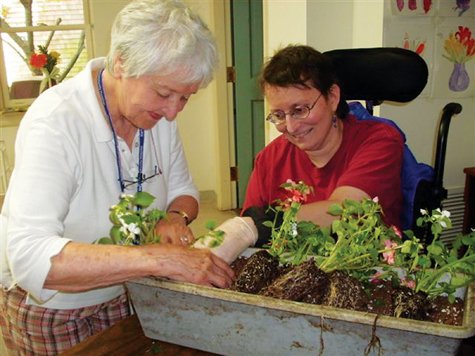 The Windemere Recreation Program
by Amelia Smith
On a typical weekday morning, residents of Windemere Nursing & Rehabalitation Center gather in the recreation room. They arrive in wheelchairs and with walkers, some exchanging greetings with fellow residents and staff, others just sitting quietly, listening. When the music begins, some even get up to dance.

Recreation Director Betty Burmeister began working at Windemere in 1995. Betty organizes a dizzying array of programs for the center's 74 residents. "We started with four volunteers, now we have over a hundred," Betty says. "We had Dionis Riggs, who was then over ninety, and a couple in their 80s who played 1940s show tunes." Volunteers range in age from preschoolers, in the Intergen-erational program with the Community Services preschool, to retirees. From the smattering of activities offered in the mid-90s, Betty and dozens of volunteers have built a varied program which fills most weekdays from just after breakfast until dinner time. There are perennial favorites like Bingo, special meals, exercise classes, and an ever-changing array
of excursions.

Many of the activities revolve around music in one way or another, with live music three to five times weekly, a chime choir, and music on ipods for individual residents. Betty says that even people with Alzheimers or dementia can often remember all the words to favorite songs. "It's something in your brain," she says. "The files are out there and they can just open up." The residents and their families help choose the music, recalling individuals' favorites from years gone by. Some of Windemere's residents help create music, in the chime choir and chorus. Betty says that those who participate are proud to be able to get out and be part of the community – they performed in a concert at the Tabernacle last summer, along with several of the Recreation Program's musicians.

The group activities are all optional, and some residents prefer quieter ways to pass the time. The West Tisbury Library brings a selection of books every second Friday, and the Perkins School for the Blind provides audio books. "We have a lot of avid readers," Betty says. Another individualized facet of the Recreation Department is the wish program, which helps residents fulfill their wishes. "I talk to the residents weekly to ask what they'd like to do," Betty says. One woman wanted to go horseback riding, one went on a biplane ride, and another got a chance to go cycling for the first time in her life. Then again, Betty says that a lot of the wishes involve lunch.

The Chime Choir is funded by a grant from the Permanent Endowment, and the van used for many of the excursions came from an anonymous donation. It has a wheelchair lift, and it's small enough that the residents' family members can drive it, making it easier to bring them to family gatherings. "All these things cost money," Betty says. "We have a fund-raising auction in June at the Ag Hall." That provides much of the necessary funding for the Recreation Department's offerings, and, along with volunteering, is a way for people to contribute to the variety of activities which stave off boredom and keep life interesting for people who can no longer live independently.

"Keep them engaged in life, as long as they can, that's my theme," Betty says. Things have been improving over the past few decades, she says. "There's a change, with more personalized and individual care." Betty and everyone involved with the Recreation Department help keep that engagement going, and making a few wishes come true along the way.