CUISINE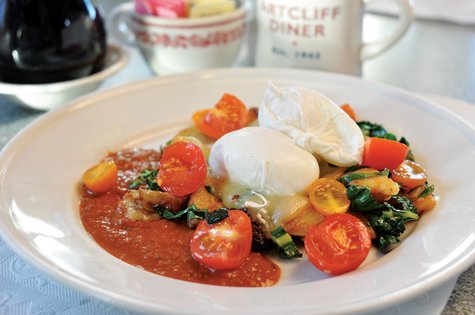 The Art Cliff Celebrates Seventy Delicious Years
By Lisa C. Belcastro
If you see lines out a restaurant's front door and around to the back, and people talking and waiting in the parking lot for over an hour for a meal, you can bet the place is worth the wait. The Art Cliff Diner is such a place. Locals gather on a regular basis for Gina Stanley's delicious home cooking. Tourists flock there – some because they've heard or read that the diner is a must-do on the Vineyard, others because it is a long-standing tradition that the Art Cliff is their first stop once they're off the ferry.

Gina opens the doors at seven in the morning and stays busy through to closing at two in the afternoon. "There are days in the summer when we have to stop taking names at noon because the wait is over two hours," Gina said.

Why? The food is great. Not good, great! The atmosphere is warm and inviting without the slightest bit of pretention, and the cozy 48-seat room feels a bit as though you're sitting down to a large family meal, with or without your family.

Personally, I'm happy at any table with one of Gina's frittatas – Yukon gold potatoes, scrambled eggs and a variety of add-ins that make breakfast the best meal of the day. My favorite is only one of many. Diners crave Gina's pancakes, her specialty egg dishes, cod fish cake with fried eggs, the Art Cliff homemade jam, and the crepes. Folks can't get enough of those crepes – for lunch or breakfast. At noon, the classics remain: hot dogs, hamburgers, grilled cheese, lobster rolls, and chowder.

Gina always has a list of specials on the board, but "no matter what I put on the menu, people order traditional diner food," she said.

Bob Tilton, who's been coming to the diner since it opened, agreed with Gina. "The hot dogs are the best thing on the menu," he said with a smile, then added, "but the crepes are pretty good, too."

Tilton is one of the Art Cliff's Round Table regulars. When Art Silva and Cliff Luce bought the dining car from Captain St. Clair Brown in 1943, they moved the car from the triangle in Edgartown to its current location on Beach Road in Vineyard Haven. When they opened the Diner, the men had a round table where friends gathered. The Round Table became an institution for that generation, and has been passed down to its current crew, which Tilton, Joe Costas, and Denys Wortman are pleased to be a part of.

Denny is one of many Island residents who grew up hanging out at the Art Cliff. "I was looking through my high school yearbook from 1957," said Denny. "Lots of us had written down: Diner Club – 1, 2, 3, 4."

"The diner is a piece of Island history," said Gina. "I feel like I'm taking care of the diner for someone else."

Gina arrived on Island with a dream and a self-professed workaholic mindset that would become essential to her profit margin. Fairytales portray young ladies being rescued from slovenly homes and whisked away to a gorgeous castle. For Gina, the story was written in reverse, and she wouldn't have it any other way. Gina graduated for the Culinary Institute of America in January of 1991. While she was in D.C. working at the five-star restuarant at the St. Regis hotel, her talents were discovered by people at the White House.

At a party Gina was catering in DuPont Circle, protocol folks from the White House were in attendance. Shortly after the party, Gina was invited to be the pastry chef at the Blair House, the president's guesthouse. Every head of state, prime minister and friend of the U. S. President who is invited to be a guest at the White House actually stays at the Blair House.

Gina worked at the Blair House for two years. Though the job was prestigious, "it wasn't fulfilling enough," Gina said. Having spent a few summers on Nantucket, Gina thought that might be the right move for her. She was on the Internet, surfing the web and looking for opportunities. "I saw the diner," said Gina, "but I thought it was on Nantucket."

A phone call to Century 21 revealed that the diner was on Martha's Vineyard. Gina had never been to the Island. She rented an SUV and drove up during the winter of 2000. "I pulled up to the diner and it was in tough shape. The diner had been closed down, but there were dirty dishes in the kitchen and the ceiling was leaking."

For a few months, Gina worked alongside the man who was renting the diner from owner Pat Luce Wilde. Gina bought out her short-term partner and then worked out an option to purchase the property from Pat.

Fourteen years later, Gina laughs when she says, "It's the longest commitment I've ever made."

"I've met really nice people. My friends are the people who have been through the diner," she said. Stop by on any given day, and Gina will be chatting with a customer turned friend about life, love and the pursuit of happiness. She cares about the people walking through her doors, and her affection for her staff and patrons give the Art Cliff a welcoming feel.

Though the exterior has changed, and some modifications to the interior have been essential for the upkeep, Gina has done her best to remain true to the 1943 diner. The original menu hangs on the wall over the seven original stools. The tabletops are chrome-lined Formica, and the decorations are classic.

"I've always loved history and vintage things. The diner fuels my passion. I wasn't looking to change it," said Gina. "I wanted it to be what it was."

"It's a place you can call home," said Denny.

Home, with nice people and great food. Doesn't get any better than that. Happy 70th Art Cliff.

Saute of Island Greens with two Poached Eggs and Mole Sauce
Serves 4
Ingredients
1/4 cup chopped onion
1 cup chopped kale
1 cup bok choy
1 cup spinach
1 cup swiss chard
1 cup cooked diced
Yukon Gold potato

Method
Saute greens and other ingredients in olive oil till wilted. Salt and pepper to taste. Garnish with sliced cherry tomatoes.
Finish with cheese
if you like.

Mole Sauce
1/2 cup toasted almonds
2 teaspoon canola oil
3 cloves garlic
1 cup tomato puree
1/2 chipotle in adobo sauce
1 teaspoon chile powder
1 teaspoon cinnamon ground
1/2 teaspoon allspice ground
1/4 cup raisins golden
1/4 cup crushed corn
tortilla chips
3 teaspoon molasses
1½ cups chicken stock
black pepper to taste
1 teaspoon pure maple syrup
1 oz. bittersweet
chocolate–chopped

Method
Put almonds, onion, oil, garlic in a medium saucepan and saute lightly. Add rest of ingredients and simmer for
35 minutes – when cooked puree in blender. Season with salt and pepper.