HOME PORTRAIT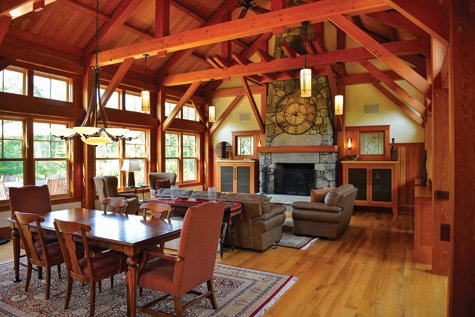 Building Landmarks

Jim Cranston is Creating a Legacy
Catherine Finch
When Jim Cranston and his brother dismantled a 150-year-old barn in Rhode Island, Jim gazed at the aged timber frame, silhouetted strong and stark against the sky, and began to feel in his own bones what it was he wanted to do with his life. As he drove wooden pegs out of the barn's posts, beams and trusses, he knew learning about and working with the secrets of wood's innate integrity would be a lifelong joy. Five years after that decisive moment, at the age of 26, he started his own company in New Hampshire. He's honed his skill as a timber framer for more than thirty years now and has never looked back.

I met Jim at his recently-built house on Martha's Vineyard and found him to be straightforward, intelligent, and genuine. After interviewing more than half a dozen homeowners, contractors and architects, I was bowled over by the extent of the praise heaped on him, not only for his extensive knowledge and craftsmanship, but also for his creative input and the sheer joy of working with a man who loves what he does.

If you want a timber frame house, Jim Cranston, owner of Offshore Timber is the man to seek out. In the words of Phil Regan, Principal Designer at Hutker Architects, "Jim's the specialist on the Island, a true timber frame artist."

Jim has built houses with a variety of wood such as pine, and white and red oak, but his favorite species to work with is Douglas fir because the wood is so strong in proportion to its weight, allowing the frame to be light and airy. He likes to choose his trees and specify to the mill exactly how to saw the wood.

"A fir beam can be more than 40' long and if cut free of heart center there will be very little distortion," he said.

Seeing the confused look on my face, he drew a cross section of a tree and pointed to the center of the circle showing the heart and then the outer ring of yellow sapwood. Next he drew a rectangle that didn't go into the center or the outer edge. "Free of heart center," he said. Depending on the size of the tree, two or three beams can be cut from a log in this manner, lean and strong.

There's no metal used in the design of Jim's timber frames. They are all wood and the joints so tight, even furniture makers are amazed. He roughs out the timbers with power tools, but finishes with hand tools to get the results he wants.

My eyes light up at the mention of antique tools. I'd inherited my Dad's collection, which we used to build an Appalachian style log house some years back. Seeing my interest, Jim took me to a shed filled with antique tools – adzes, chisels and a fancy compass plane that can form and smooth a curve.

Jim feels his most successful jobs have been the ones where he had early access to the plans and could influence the design with authentic traditional joints that give a sense of history to the craftsmanship. Knowing how to get the wood to do the work rather than relying on steel is a hallmark of the construction method which has been around for thousands of years, ranging from Europe to the Far East.

When Jim first began his timber frame business in New Hampshire, he cut the timbers in an old apple barn and then delivered them all over New England, Pennsylvania, and New York. He brought his first pre-cut timber frame to Martha's Vineyard in 1994. A couple years later Phil Regan met him to discuss the possibility of building a horse barn in Chilmark. "Jim impressed me as a smart guy. Very much into the craft, not a fancy look at me type of guy. And he knew a lot more about timber framing than me," Phil added with a laugh.

Hired to complete the whole job, Jim packed up his tools and moved to the Island for the winter with some of his key personnel. "There was a family atmosphere to the project," Phil said in describing the crew and construction site, "a real craft with hand chosen trees and not just pounding nails into precut wood. A sense of celebration of the project and old school craftsmanship."
Jim credits Phil with taking a chance on him and bringing him to the Island. Little did he know then that in just a few years he would be making Martha's Vineyard his home.

The first house Jim built on the Island some 15 years ago was for Robert and Elsbeth Fullem, designed by Hutker Architects on Sengekentacket Pond. "We saw the horse barn he built," said Elsbeth. "When Mark Hutker and Phil suggested Jim as the general contractor for our house we said, 'Yes!' He's so nice," she said with a twinkle in her eye. Their house has the traditional great room with a simple king post truss design, which uses a single vertical timber to support the triangle's peak, a high ceiling and grand stone fireplace, yet there is a human scale to the design, a lovely coziness with highlights to the joinery in contrasting wood that flows into the cabinetry and trim.

Elsbeth still delights in Jim's eye for detail above and beyond the joinery - from the electric fixtures hidden on top of the fir beams to light up the Cyprus boards on the ceiling, to the built-in breakfast table incorporated seamlessly into the timber framing. She and her husband left everything up to Jim. "He knew the ins and outs of how each wood would shrink or what color one would age to and so forth. We completely trusted him," she said.

After moving into their new summer home, the Fullems didn't want to leave. "We had a house in New Jersey and another in Florida," Elsbeth noted, "but we decided we'd just stay here year round because we found the house so comfortable."

Jim enjoys collaborating on projects and the next house I saw told of an extraordinary partnership. Jim had already built a large barn to hold a boat for owner, Darren Lobdell's father, so Darren knew and appreciated Jim's work. Darren hired Phil Regan to design the house. Phil not only had a solid working relationship with Jim, but was also an old friend of Darren's from when they were students at the Martha's Vineyard Regional High School. Due to an accident, Darren uses a wheelchair for mobility so there were very specific needs to be met in the design and construction.

The three men combined their talents, their appreciation for quality in form and function, and created a magnificent home. The traffic flow throughout is smooth and spacious, yet the large house feels inviting and intimate even in the great room which incorporates a queen post truss design with two vertical timbers supporting the roof.

Darren extols Jim's attention to detail and high standards, not just in woodworking, but also in contracting the project from top to bottom. "Jim's work is at the highest level of craftsmanship. His houses will be histor-ical landmarks when we are long gone."

I asked Darren what advice he had for people thinking of a post and beam house. He answered, "Have Jim be the contractor, not just the one cutting the timbers."

Although he prefers to be in charge of the whole project, Jim has done numerous houses where he was hired only for the post and beam frame of the great room. Sharon Gary, co-owner of DM Construction who general contracted a project on Sengekontacket Pond, said, "Jim is easy to work with and he knows what he's doing."

Architect Peter Breese, Principal of Breese Architects, has incorporated timber frames into a number of his unique and innovative residential designs. "Jim understands traditional timber framing 110 percent, but will go on to indulge an architect's idea of something very different," Peter said with a smile behind his words. "He lets me know when he thinks I've gone too far. With his good eye and engineering sense, he's always right." One of Peter's most radical designs that Jim built has a lower ridge beam suspended from a higher one with the rafters at two different angles and slopes. "Like nothing engineered before," Peter said, "after fourteen years it hasn't moved an inch."

In his own house, Jim used Douglas fir in a Japanese style of truss design. The joinery is fantastically intricate, yet elegant and light. The man is truly gifted with skill and an artistic eye, but he also has plenty of common sense. In the 1970s and 80s, when people became concerned about the cost of heating fuel, timber framing experienced a revival. To this day, it is still one of the most energy efficient houses to live in because the walls and roof are wrapped in stress-skins, which are structural panels of rigid insulation sandwiched between oriented strand boards. When Jim designed his house he had his eye on not only the beauty and strength of wood, but also on his monthly utility bills and got the best of both worlds.

Along with energy efficiency is the use of recycled timbers, like that barn Jim and his brother dismantled. Jim gets his old wood from different sources all over the country now. After decades of seasoning the recycled timbers are incredibly stable.

The final house I saw made my jaw drop. By now I was familiar with the feel of the great rooms, their soaring ceilings and stone fireplaces at the end of a series of posts and beams and trusses. This one, though, made me want to drop to my knees the way the design honored the majestic beauty of trees.

The owners, Megan and Warren Adams, didn't want triangular trusses, so while they talked, Jim began to sketch some ideas. "Jim is such a great artist," Megan said. "When he drew a curved design, (a modified cruck frame), we knew that's what we wanted."

Jim set about in search of trees growing on the side of hills, bent by the wind. Megan couldn't believe he actually found eight red oaks of the right shape. He told her that tree farmers were thrilled when someone wanted their bent over trees because they couldn't be milled. Once the curved logs were delivered, Megan showed such enthusiasm for the whole process that the crew let her help debark the trees.

Wanting a light, airy feel, Megan had the oak whitewashed the color of driftwood. The thin stain allowed the variation in shade and grain to show through, so none of the natural wood property was lost. Each hefty timber arched pale and elegant to the ceiling, yet there was still a warm friendliness to the space. Each windswept tree seemed to be pleased with its place in the room. A lasting legacy, for sure.

"Even after 30 years, timber framing is still what I love to do and want to do," Jim said at the end of our conversation.

I believe I've found a new home for my Dad's antique tools. Being a pragmatic sort, he'd be glad to have Jim put his treasures to use again.