ARTIST PROFILE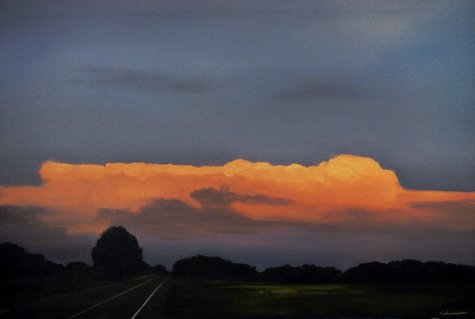 Dan VanLandingham

From Vineyard 'Scapes to Societal Spaces: the Portrait of a Young Artist
Profile by Nina E. Ferry
Vineyard-born West Tis' Kid and artist, Dan VanLandingham, represents a new wave of young and inspired island residents. Only graduating from Martha's Vineyard Regional High school in 2003, VanLandingham is one of the island's hottest artists.
Currently featured in four galleries: two on the Island, one in Savannah, and one in the Hamptons, VanLandingham is living his dream. Humbly, noting support from family and friends, he says, "I never really knew people could make a living by painting. I have to constantly remind myself how lucky I am. I am fortunate to have grown up here, surrounded by people I love."
Working in both oils and acrylics, VanLandingham is a master of landscape— from pastoral Vineyard to more modern images of an environment in turmoil; he constantly pushes his comfort zone. "For me," he says, "painting is problem solving. It allows me to work though different things."
Froma young age, VanLandingham's love of art attracted him to talented local artists. He fondly remembers, "Allen Whiting was one of the first people who really did something for me. When I was a little kid, at the West Tisbury School, I was just mesmerized by his paintings. Even then, not having any knowledge of art history or how to paint, I still got it. I still had an appreciation for it."
To find his style, VanLandingham says, "I started with oils, even before high school—I tried a couple—just crappy oil paintings. I knew I had to learn how to use the tools before I could redefine what art meant for me—a carpenter has to learn how to swing a hammer before he can build a house."
Although oils are often a challenging medium for many contemporary artists due to fumes, environmental concerns, and the finality of a brush stroke, VanLandingham never shies from a challenge. He is conscious about the harmful effects they present and disposes of the toxic materials properly. He also builds his own Shadow Box frames out of Cedar and Cyprus, bringing his artistic process full-circle and giving his oils "boundaries."
His traditional style paintings, found at the Dragonfly Gallery in OB, and also at the Artisan's fair during the summer, are "more ideal scenes," he says. "The Vineyard I wish I could always see. They never have any humans in them. They are just a very quiet, calm space."
VanLandingham's process for painting oils is unique because each scene comes from his interrelation with that space: a walk in the woods, a pastoral image. He paints his smaller oil paintings in the field and then takes those small studies back to his studio to start anew and create larger works. Although he still loves the feeling of using oils, he is also having a lot of fun experimenting with acrylics because it's the direction his work is going.
The artist's new style—focusing on relationships between human nature and the environment: an interview with spaces, can be found locally at the Pik Nik Gallery in Edgartown, at Shop SCAD in Savannah, and at the Richard J. Demato Gallery in Sag Harbor, New York. When asked how he got his foot into the Hamptons, VanLandingham replied, "That's the story of my career. Good Karma." He is constantly in his studio preparing for upcoming shows and events. His next solo, at the Demato Gallery on June 23rd, is keeping this artist on his toes.
Most of VanLandingham's new work encompasses a textured layering of oils, acrylics and other media to form large, powerful images and landscapes that may lead an admirer to question a future dystopia, or derelict environment. One of these paintings usually "starts with a series of ideas and rarely does it even turn out the way I in vision it from the beginning," he says. "It always takes a random turn. I'm usually surprised by it."
VanLandingham, well trained in art studies and form, is a 2007 graduate of Green Mountain College in Vermont, and holds an MFA from Savannah College of Art and Design in Georgia. Still hesitating when asked to assign and label the messages in his new work, the artists says, "I feel like it would be too much of a one liner if I had a very obvious narrative—such as harmful effects to a space."
His primary reason for returning to formal schooling was to push the limitations we, as humans, often set when we are comfortable with a trade we excel at. He says, "I still don't understand a lot of things about my career. That's why I went to SCAD. I couldn't just stay on one path—a comfortable path. I wanted to grow as an artist and I received that when I was down in Savannah."
While at SCAD, VanLandingham continued his formal studies of art and began exploring other mediums, thus allowing his new style to emerge. "Acrylic gives me a little more flexibility and freedom," he says, "I can take these pieces of dried paint and physically hold them up on the painting to adjust. I can stand back and see how that mark is going to be made, instead of committing to oil marks, where once you put it down, it's there. I now use Oils for translucent layers."
Captured by this new process, VanLandingham started using what he calls "decals," pieces of dried acrylics, which are affixed to his paintings with clear acrylic to add an additional focal point. He avoids having one focal point in his pieces because he feels it limits the narrative and the viewer's perception. For VanLandingham, each of his pieces represents a continuous journey: a relationship between viewer and artwork that will constantly evolve.
Like his traditional oils, his inspiration for his newer work stems from the Island's unique identity, and the found identity of islanders in their twenties who are born and raised here. VanLandingham is one of these young islanders who travel, always to return home. When asked to clarify how the island influences his newer work, he says, "the size alone of the island makes it a unique and delicate place. You see the vulnerabilities of space and the landscape here. It's a small ecosystem and there is only so much land we can develop. But here, there is also a push pull effect. We are constantly building, but at the same time, there is continuous conservation. I try not to sound too biased when I am making paintings. I don't feel like I need to point things out; I think it is pretty clear what we have done."
A passionate and talented young man, VanLandingham will continue to experiment with style, media and ideas. Based in his studio in West Tisbury, he will continue to be involved in nature and conservation. Using decals allows him to recycle paint, where nothing goes to waste. He will also continue to focus on landscapes and these contemporary spaces because he loves the outdoors, and confirms, "it's as simple as that."
Keeping it local, VanLandingham invites people to look for him at the Artisan's fair—every Sunday in July and August at the Grange Hall in West Tisbury. There, you will find his small oil studies. Also, find him out on the trails and beaches. He says, "in the summer I tend to paint a lot of actual vineyard scenes. I'm approachable. I put my phone number out there because remaining humble is the most important thing for a painter."
To check out all of his work, go to his website and buy through the nearest gallery. His larger landscapes are at the Dragonfly Gallery in OB and the contemporary spaces are at the PiK Nik gallery in Edgartown, or on Charles St. in Boston. For his installations and larger works, go to the Shop SCAD Gallery in Savannah, or the Richard J. DeMato Gallery in Sag Harbor, NY.
For more info click:
www.Danvanlandingham.com