MADE ON ISLAND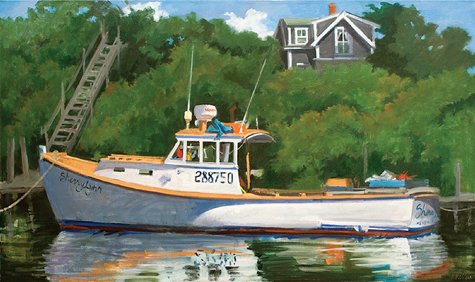 Stirred by the Scent of Memories

The Realist Paintings of Anne McGhee
By Karla Araujo
She'san instantly recognizable figure in her large straw hat on the dock in Menemsha on a warm summer day. But in the brisk chill of early autumn, painter Anne McGhee is back in Boston, standing before her easel in the shadow of Fenway Park, her brushstrokes capturing the at once nostalgic yet timeless shrine to America's favorite pastime.
From classic fishing boats to baby bok choy, the looming green steel and red brick of the iconic Fenway grandstand to delectable strawberries in a simple plastic container, Anne moves easily among the subject matter that moves her.
"What I paint has nothing to do with what others might like to see," she says, establishing her Boston-bred Yankee sensibility right up front. "It's because something stirs me. It might be as simple as how the light hits an object in my studio."
Dividing her time between work space in the historic Fenway Studios (an artist cooperative in Boston's Back Bay), her teaching duties at Harvard's Graduate School of Design, and her family's long-time summer home in Chilmark, Anne is passionate about all that she does. Much of her painting occurs on site – in heat, cold and wind – and she wouldn't have it any other way.
"I paint from life," she explains. "There's something that happens. An interaction between you and the subject matter. Working from a photograph just doesn't excite or challenge me."
Anne comes from a family of accomplished artists, growing up, she says, in the shadow of her father's fine work and that of his close friend, painter and muralist Thomas Hart Benton. As a result, she was insecure about her own efforts until a year of college study in Italy inspired her to pursue her own art with more conviction.
Today, she shows her work at PIKNIK Art & Apparel in Edgartown and on her own to private clients. Fascinated, she says, by architectural structure and the vanishing landscape, Anne continues her Fenway Park series and enjoys painting on-Island in Oak Bluffs, in Menemsha, and in off-the-path locations across the Island.
To see Anne's work, visit PIKNIK Art & Apparel in Nevin Square, Winter Street, Edgartown, or at
www.piknikmv.com
.