CUISINE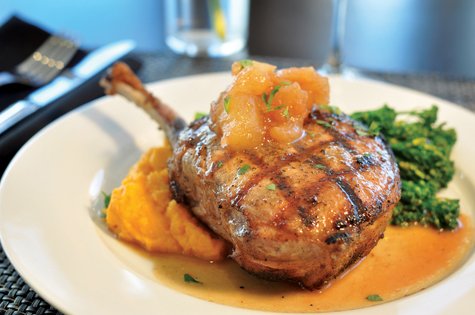 A Feast of Flavors at Cafe Moxie

Island Chef Josh Aronie
By Lisa C. Belcastro
Flowers are blooming, the trees are leafing out and the grass is greening. Spring is here. A new season of life and renewal. Few Island restaurants have undergone a re-birth as dramatic as Café Moxie. I vividly remember walking out of the Mansion House after my workout on the morning of July 4, 2008, and seeing flames bursting through the windows and crawling up the walls of the Main Street restaurant and over to the Bunch of Grapes bookstore next door.

When the Island fire departments had extinguished the flames, there was little left to Café Moxie. A change of ownership and over four years later, Café Moxie re-opened in the fall of 2012. A fresh new look, a new chef, and a new menu bring revival to a familiar name missed by many. The lunch and dinner crowds are already discovering their favorites as the restaurant, which recently acquired their beer and wine license, prepares to open seven days a week for its first summer season in five years.

And the promise of summer is definitely in the air. Cool mornings are giving way to warm days. The sun is setting later each night and the tourists are returning. One can choose few views better to enjoy the bustle of spring in Vineyard Haven than a window table at Café Moxie. More than the view, though, I'm savoring the flavor sensations of chef Josh Aronie's Mediterranean salad.

Today I was torn, my fav, the falafel wrap, or the Mediterranean salad with a side of rosemary and lemon-salt fries. My dining companions craved the fries, so we're sharing a bit of Heaven on Main Street. The fries are a featured side on Josh's new menu. I'm going to warn you – the first bite compelled me to take another and then another and then another. Fortunately for Vineyard Style readers, Chef Aronie has agreed to share, and modify, the recipe for our home kitchens.

Though fries are relatively simple to make, the seasoning is crucial. "First, use what I like to call a big format salt – Kosher or sea salt. Zest the lemon. Then, with a mortar and pestle, grind the lemon zest until you get a paste. The next step is all about taste-testing," said Josh. "Add salt until the lemon dries out and the flavor is right for you. Once the fries are cooked, sprinkle on your lemon salt and then add the finely chopped rosemary."

Josh's combination of lemon salt and rosemary took fries to a new level. A great compliment to my salad. Ahhhh, my salad. A signature dish on Moxie's lunch and dinner menus, the Mediterranean salad is great for spring and summer. The flavors and textures combine for the perfect forkful every time, which I guessed had a little to do with the light, herb-flavored dressing. I asked Josh what inspired his recipe.

"For me it was about not making another Greek salad. I wanted to focus on the region as a whole. Fire roasted red peppers and artichokes are common throughout the Mediterranean, the olives are Greek, the almonds are Spanish. The secret ingredient is the Greek oregano. I order it online," said Josh, who started in the restaurant business at age 12 at the Homeport.

"The most common Mexican oregano is a relative of lemon verbena. Greek oregano is in the mint family. Makes a huge difference in the flavor. The dressing ties together all the different textures. It has herbs but also a little sweetness."

Out of curiosity, and a love for Josh's dressing, I Googled oreganos. Sure enough, there is difference between all the oregano flavors. Mediterranean oregano grows from Greece to Italy, Spain, Turkey, Egypt, and Morocco, and is also known as wild marjoram. The Greek oregano is savory and earthy, the Italian is milder and the Turkish is pungent. In order to make the recipe Josh has so kindly shared with us, I'll be planting Greek oregano in my herb garden this year.

When the oregano is just going into the garden, broccolini is ready to eat. Chef Josh has paired a spring harvest of broccolini with a thick pork chop and plenty of apple and ginger. Josh keeps the vegetable simple. He adds a little garlic, lemon and finishes it off with a pinch of red pepper flakes. "To me, the sides should taste good, but they shouldn't be the star of the dish."

Josh's pork recipe will be a starring dish. Pork and apples compliment each other well, and Josh noted that the sauce "is really nice. It's great in the fall or the spring. The fruit brings out the season."
And don't worry about overdone meat. Josh assures me these chops are almost foolproof. "Pork is relatively easy. These chops are thick so they're hard to dry out. We grill them first, then finish them in the oven."

Josh has made a name for himself in some well-known Island restaurants. He grew up spending summers on the Vineyard, then moved here fulltime in 1998. While teaching at the Charter School, he heard about an opportunity in Oak Bluffs. With a business partner, he opened the Park Corner Bistro. A few years later, he opened Sharkey's with two other business partners. Three years later he opened the Menemsha Café with his wife. After three years in Menemsha, he moved on and opened the Saltwater Cafe. Last fall, Café Moxie called and asked if he could help out in the off-season. Within weeks he had a fulltime chef position and new menu to create.

Patrons of Café Moxie are well acquainted with Josh's fishcakes. My fiancé was thrilled to discover that they are gluten-free as well as delicious.

"One time I was making the fish cakes and forgot to put in bread crumbs. It tasted good, so we decided to keep it. It's a great gluten-free option," said Josh.

The fish cakes at Moxie are heartier than most. Josh noted that the recipe is simple – a lot of fish, not much filler. And he cooks the cakes in butter, though you can use oil if you'd prefer. Either way they'll come out crispy and brown on the outside and tender on the inside.

And when you've finished any one of the entrees for dinner, how about a slice of Leslie Hewson's chocolate fluffernutter cake? Leslie bakes all the desserts fresh daily for Café Moxie. She's known Island-wide for her sweet sensations. The recipe she's sharing with Vineyard Style is sure to please old and young alike. While he's fond of the taste, Josh appreciates the recipe because it uses extras from his kitchen.

"We have so many egg whites leftover from other recipes. It's a great use of leftovers that many people throw in the trash," Josh noted.

Leslie's cakes and cookies are displayed on the counter as patrons walk into Moxie, so one can plan the meal around dessert if you are so inclined. Customers planning to celebrate a birthday or special occasion at Moxie can call two days ahead and special order any of Leslie's cakes or sweet concoctions. Her chocolates are so yummy. We ordered some for a friend's birthday and were fighting over the last pieces. Fortunately, there's more were those came from.


Pork Rib Chops
Ingredients
4 thick-cut bone-in rib chops
Olive oil
Salt and pepper

Method
1. Preheat oven to 450 degrees and turn on grill to 400 degrees.
2. Coat chops with oil
3. Liberally salt and pepper both sides
4. On a hot grill, spray with pan release and place chops on grill all facing the same way. Cook for 2 minutes, turn 45 degrees to cross the mark and cook for 2 minutes. Flip chops over and repeat process. Mark 2 minutes, turn and mark 2 minutes.
5. Take chops off grill onto sheet pan and put in oven for 7-8 minutes or until internal temp is 140-145 for medium.
6. Let chops rest for 3-4 minutes before serving.

Apple-Ginger Chutney
Ingredients
4 Fuji Apples, peeled,
cut into quarter-sized chunks
1 Tablespoon finely grated fresh Ginger
¼ teaspoon Cinnamon
¼ teaspoon Lemon Juice
1/8 teaspoon Kosher salt
¼ cup Water
Light Brown Sugar to taste if necessary

Method
1. In a sauce pot, combine all ingredients but brown sugar.
2. Stir and let simmer on medium-high heat. Continue stirring occasionally until apples are soft but not mushy.
3. Taste mixture, if too tart, add some brown sugar to desired sweetness.
4. Turn off heat. Roughly mash in order to keep some chunkiness.