MADE ON ISLAND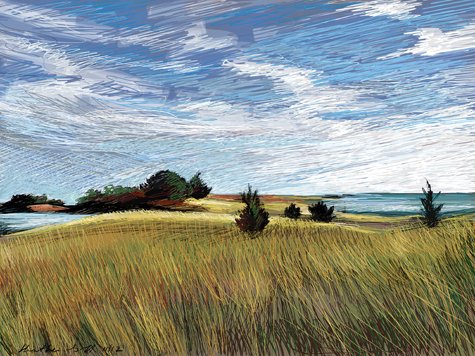 Drawing Everyday Life

Heather Goff's Daily Sketches
By Karla Araujo
Avase of fresh flowers. A sleeping child. The streets of Oak Bluffs at twilight. Bare trees in a snow-covered field. A golden retriever drinking from a puddle.
While there may be nothing extraordinary about her subject matter, Heather Goff's drawings capture the beauty and timelessness of life's simple moments so evocatively that she has attracted hundreds of ardent admirers. This Oak Bluffs website designer/programmer by day is a dedicated illustrator by night, creating art that isn't on display in a gallery – instead, fans of her work tune into her Facebook page or website each evening to view her latest creation.
Heather began crafting her "Daily Sketches" in February 2012 after realizing, she says, that she'd lost a piece of herself. Trained as a fine artist in Europe and the U.S., Heather instead became a tile designer and then a website developer. In spite of her successful enterprises, she felt something was missing.
"I had lost touch with my love for drawing after having three children and a busy career," she explains. "So I decided to do a sketch a day, just for myself, when my work and family time were finished in the evening."
Further inspired by enthusiastic comments online, Heather says that having to meet the expectations of eager viewers each evening keeps her sketching and pushing herself.
"It's kind of like joining Weight Watchers," she jokes. Inspired by images she captures on her iPhone, Heather works digitally on her computer with a Wacom Intuos tablet and Corel Painter™12 software. She enjoys the forgiving nature and flexibility of the technology – so much so that she has extended her self-imposed sixty-minute nightly deadline to several hours.
Fans of her drawings can now purchase high-resolution jpeg files that ­can be downloaded for printing right from her website
heathergoff.me
or as a link from her Facebook page.