SCENE AND SEEN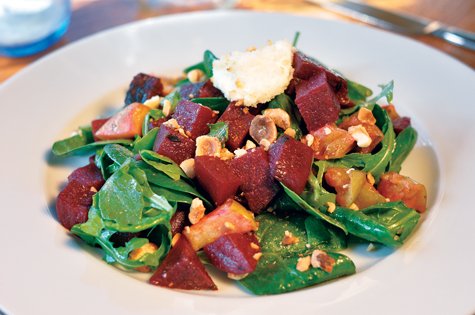 All the Comforts of Home at Lucky Hank's
By Karla Araujo
Freshly caught, picked, cooked, or baked, "fresh" is the buzzword restaurant owner Doug Smith uses to describe his approach to breakfast, lunch and dinner on Upper Main Street in Edgartown. Opened this past fall, Lucky Hank's Restaurant & Café is garnering a passionate Island following for its focus on simple, delicious and – yes – fresh ingredients.
"I tried to figure out what the community needed," Doug explains. "And I decided what it didn't need was another fine dining restaurant."
Open for breakfast, lunch and dinner six days a week (every day in season) and brunch on Saturday and Sunday, Lucky Hank's instead specializes in good old-fashioned, made-from-scratch American comfort food.
Inspired by both Vineyard and regional cooking, Chef Danny Finger whips up a very accessible evening menu of meatloaf with onion gravy, cod cakes, and native lobster pot pie, along with specials like lobster risotto, braised lamb shank, and pan-seared fresh cod, all accompanied by locally sourced farm vegetables.
If omelets or three varieties of eggs benedict don't tempt you at breakfast, Lucky Hank's White Chocolate & Macadamia Nut French Toast, freshly made granola, or homemade corned beef hash just might. Lunch provides an excuse to linger, with New England clam chowder or soup du jour to start, and herb chicken, lobster roll, cod cake, meatloaf, or roasted veggies piled high on griddled multigrain bread. Dessert (think Bananas Foster Bread Pudding or blueberry pie) is also – you guessed it – made fresh daily.
Doug and Danny bring extensive restaurant experience to Lucky Hank's – from Boston's top Back Bay establishments, Biba and Sonsie, to Island favorites including Chesca's and the Harbor View Hotel.
"I wanted to accentuate the feeling of home," Doug explains, pointing to the warm light-hued woods, beams, covered dining patio, and colorful upholstered banquettes and throw pillows.
The full menu is available for takeout and, according to Doug, a beer and wine license should be in place for the season.
Visit Lucky Hank's at 218 Upper Main Street, Edgartown (across from Wavelengths Salon), at
www.luckyhanksmv.com
, or on Facebook.